The Hidden Power of a Woman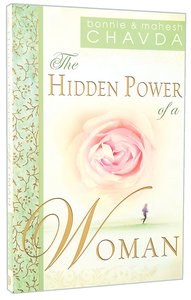 Women are searching for significance and status in our generation. There is a holy restlessness concerning purpose as much as the yearning for power. THE HIDDEN POWER OF A WOMAN traces the tragedy in the garden where Eve seemingly lost, to the modern day where women are still fighting to regain what they have lost.

The authors, Bonnie and Mahesh Chavda, show how modern feminism and religion have both failed in the quest to restore women to their rightful place in our society.

What is the answer? The Chavdas show that her power, influence, and insight that was stolen in Eden and hidden for subsequent ages, was returned back to her two thousand years ago when Christ cried out, "It is finished!"

As the hidden power of God emerges in the woman who fully follows Christ, get ready for empowerment in the church, redemption in society, miracles in the body, and blessings on the human race unequal to any generation previous. The new thing God began when he made a woman as the crowning glory of his creation work and was lost in that same Garden will be restored once again.


- Publisher It all started with Eve. And for generations the evil one has been tempting and twisting the woman to fulfill his demanted plans.

- Publisher
You May Also Be Interested In
About "The Hidden Power of a Woman"
Women are searching for significance and status in our generation. There is a holy restlessness concerning purpose as much as the yearning for power. THE HIDDEN POWER OF A WOMAN traces the tragedy in the garden where Eve seemingly lost, to the modern day where women are still fighting to regain what they have lost.

The authors, Bonnie and Mahesh Chavda, show how modern feminism and religion have both failed in the quest to restore women to their rightful place in our society.

What is the answer? The Chavdas show that her power, influence, and insight that was stolen in Eden and hidden for subsequent ages, was returned back to her two thousand years ago when Christ cried out, "It is finished!"

As the hidden power of God emerges in the woman who fully follows Christ, get ready for empowerment in the church, redemption in society, miracles in the body, and blessings on the human race unequal to any generation previous. The new thing God began when he made a woman as the crowning glory of his creation work and was lost in that same Garden will be restored once again.

- Publisher

It all started with Eve. And for generations the evil one has been tempting and twisting the woman to fulfill his demanted plans.
- Publisher


Meet the Authors
Bonnie Chavda
Chavda is associate pastor of All Nations Church in Charlotte, North Carolina. She serves on the editorial advisory board of SpiritLed Woman Magazine.
Mahesh Chavda
Mahesh Chavda grew up in Mombasa, Kenya, the son of a prominent Hindu teacher. At age sixteen he had a dramatic encounter with Christ and committed his heart to Jesus. Bonnie Chavda is executive director of Mahesh Chavda Ministries International. She has served with her evangelist husband in global mission work since 1980. Together they have written numerous bestsellers, including Only Love Can Make a Miracle; Make Room for Your Miracle: Releasing Resurrection Power in Your Life; Storm Warrior: A Believer's Strategy for Victory and have led more than 750,000 people to Christ around the world. Mahesh and Bonnie are cofounders and senior pastors of All Nations Church in Charlotte, North Carolina.