The Hidden Power of Healing Prayer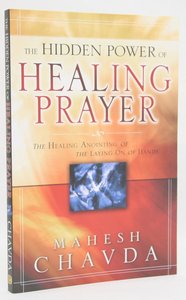 Here is the fatal blow to the belief that God does not heal today.Reveals how the healing compassion of our Lord reaches the hurting masses simply by the believer's healing touch.Affirms that the healing anointing and the gifts of signs and wonders are not reserved for 'super saints' or the specially gifted, but are available to every believer who carries the compassion and love of the Lord Jesus.

- Publisher Mahesh Chavda has ministered healing to more than a million people around the world. In this book, he reveals how the compassion of our Lord reaches the hurting masses simply by the prayer for healing.

- Publisher
You May Also Be Interested In
About "The Hidden Power of Healing Prayer"
Here is the fatal blow to the belief that God does not heal today.Reveals how the healing compassion of our Lord reaches the hurting masses simply by the believer's healing touch.Affirms that the healing anointing and the gifts of signs and wonders are not reserved for 'super saints' or the specially gifted, but are available to every believer who carries the compassion and love of the Lord Jesus.
- Publisher

Mahesh Chavda has ministered healing to more than a million people around the world. In this book, he reveals how the compassion of our Lord reaches the hurting masses simply by the prayer for healing.
- Publisher


Meet the Author
Mahesh Chavda
Mahesh Chavda grew up in Mombasa, Kenya, the son of a prominent Hindu teacher. At age sixteen he had a dramatic encounter with Christ and committed his heart to Jesus. Bonnie Chavda is executive director of Mahesh Chavda Ministries International. She has served with her evangelist husband in global mission work since 1980. Together they have written numerous bestsellers, including Only Love Can Make a Miracle; Make Room for Your Miracle: Releasing Resurrection Power in Your Life; Storm Warrior: A Believer's Strategy for Victory and have led more than 750,000 people to Christ around the world. Mahesh and Bonnie are cofounders and senior pastors of All Nations Church in Charlotte, North Carolina.