The High Calling (House Of Winslow Series)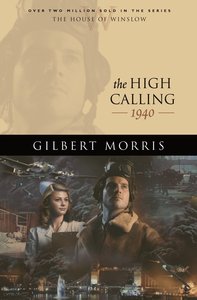 Katherine Winslow has finished nursing school, and she is certain God has something great in store for her. Deciding that marriage would only get in the way of God's plans, she applies to several missionary organizations and finally is sent to work at a mission in London. <br><br>It is there she reestablishes a friendship with Parker Braden, a British fighter pilot with whom she had become close when he had travelled to the United States a few years earlier. Discovering that he is now married and has two children, she resolves to keep him at arm's length. <br><br>As the war escalates in Europe, and as Parker and those close to him are increasingly endangered, Katherine finally discovers her high calling is not what she had imagined it to be. <br><i><b>- Publisher. </i></b>
You May Also Be Interested In
About "The High Calling (House Of Winslow Series)"
Katherine Winslow has finished nursing school, and she is certain God has something great in store for her. Deciding that marriage would only get in the way of God's plans, she applies to several missionary organizations and finally is sent to work at a mission in London. <br><br>It is there she reestablishes a friendship with Parker Braden, a British fighter pilot with whom she had become close when he had travelled to the United States a few years earlier. Discovering that he is now married and has two children, she resolves to keep him at arm's length. <br><br>As the war escalates in Europe, and as Parker and those close to him are increasingly endangered, Katherine finally discovers her high calling is not what she had imagined it to be. <br><i><b>- Publisher. </i></b>
- Koorong

Katherine Winslow feels that God has a specific plan for her life--and that it will be something very grand. She rejects the idea of marriage, believing it would only get in the way of the high calling God has in mind for her.

When Kat is sent to London for missionary training, she is reunited with Derek, a former beau now in the RAF. As the Battle of Britain heats up, Derek is missing in action, leaving Kat to wonder about the certainty of her calling.

The High Calling will capture readers attention with page-turning adventure and inspiring romance.
- Publisher


Meet the Author
Gilbert Morris
Gilbert Morris is one of todays best-known Christian novelists, specialising in historical fiction. His best-selling works include Edge of Honor (winner of a Christy Award in 2001), Jacobs Way, the House of Winslow series, the Appomattox series, and The Wakefield Saga. He lives in Gulf Shores, Alabama, with his wife, Johnnie. - Publisher.
Other Titles In The "House Of Winslow" Series View All