The Holman Guide to Interpreting the Bible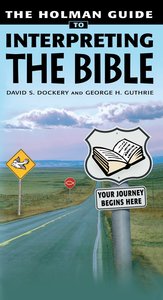 David Dockery and George Guthrie set forth the basics of interpreting, applying, and communicating the Word of God in teaching and preaching. The heart of the book is a mentoring session with Dockery and Guthrie. It's as if they are at the table with you showing you the steps to interpretation, applying it to Philippians 2:5-11. They have summarized the steps to interpretation in a chart that will be useful every time you prepare a lesson or sermon. And, you will find helpful workbook features for hands on experience
- Publisher
You May Also Be Interested In
About "The Holman Guide to Interpreting the Bible"
David Dockery and George Guthrie set forth the basics of interpreting, applying, and communicating the Word of God in teaching and preaching. The heart of the book is a mentoring session with Dockery and Guthrie. It's as if they are at the table with you showing you the steps to interpretation, applying it to Philippians 2:5-11. They have summarized the steps to interpretation in a chart that will be useful every time you prepare a lesson or sermon. And, you will find helpful workbook features for hands on experience
- Publisher
Meet the Authors
David S Dockery
David S. Dockery is president of Union University in Jackson, Tennessee. He has also served as chairman of the board of the Council for Christian Colleges and Universities. Dockery has authored or edited thirty books including "Renewing Minds", "Shaping a Christian Worldview", and "Christian Leadership Essentials". In addition, he serves as a consulting editor for "Christianity Today" magazine.ý
George Guthrie
George H. Guthrie (PhD, Southwestern Baptist Theological Seminary) serves as the Benjamin W. Perry Professor of Bible at Union University in Jackson, Tennessee. As a specialist in New Testament and Greek, he is the author of numerous articles and four books including the volume Hebrews in the NIV Application Commentary series.