The Holy Land For Christian Travelers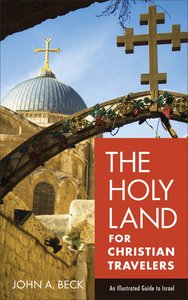 A trip to the Holy Land is on the bucket list of many Christians. But planning a meaningful trip in a place so filled with significant sites is an imposing task. Most travel guides are not prepared to link the Bible and land in an accurate and meaningful way because they are written for people of all faiths. So how can a Christian traveler prepare a trip that will illuminate God's Word and reveal the Lord's presence?

In The Holy Land for Christian Travelers, John A. Beck provides a guide to the Holy Land for Christians with explanations of the biblical significance of important sites. The entries provide key Scripture references for reflection and a guide to the land that will encourage communion with God and a genuine spiritual experience for travelers as they walk in the footsteps of Jesus. A trip to the Holy Land can be a worship-filled, once-in-a-lifetime spiritual journey. This book puts a biblical scholar and experienced Holy Land guide at the reader's side.

- Publisher
You May Also Be Interested In
About "The Holy Land For Christian Travelers"
A trip to the Holy Land is on the bucket list of many Christians. But planning a meaningful trip in a place so filled with significant sites is an imposing task. Most travel guides are not prepared to link the Bible and land in an accurate and meaningful way because they are written for people of all faiths. So how can a Christian traveler prepare a trip that will illuminate God's Word and reveal the Lord's presence?

In The Holy Land for Christian Travelers, John A. Beck provides a guide to the Holy Land for Christians with explanations of the biblical significance of important sites. The entries provide key Scripture references for reflection and a guide to the land that will encourage communion with God and a genuine spiritual experience for travelers as they walk in the footsteps of Jesus. A trip to the Holy Land can be a worship-filled, once-in-a-lifetime spiritual journey. This book puts a biblical scholar and experienced Holy Land guide at the reader's side.
- Publisher


Meet the Author
John A Beck
John A. Beck (Ph.D., Trinity International University) has taught courses in Hebrew and Old Testament at various colleges and universities for the past 16 years. He currently is an adjunct faculty member at Jerusalem University College in Israel.
His articles have appeared in several journals, and he is the author of The Land of Milk and Honey: An Introduction to the Geography of Israel; A Visual Guide to Bible Events: Fascinating Insights into Where They Happened and Why; A Visual Guide to Gosepl Events: Fascinating Insights into Where They Happened and Why as well as God as Storyteller: Seeking Meaning in Biblical Narrative.
Most recently he has completed Zondervan Dictionary of Biblical Imagery
Koorong -Editorial Review.