The Holy Spirit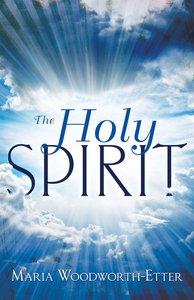 As revealed through her extraordinary ministry, Maria Woodworth-Etter was anointed by God to reach the sick and the lost of Christ. Drawing upon personal experiences and Scripture, she presents an enlightening look at how God wants to use His people mightily in the end times. Through her insightful words, you will find out how you can personally lead people to the Savior, receive your spiritual gifts, make sure you are ready for Christ's return, and build your faith for miracles. Discover the exciting opportunities available to believers in the last days, and experience God working through you in miraculous ways!

- Publisher
You May Also Be Interested In
About "The Holy Spirit"
As revealed through her extraordinary ministry, Maria Woodworth-Etter was anointed by God to reach the sick and the lost of Christ. Drawing upon personal experiences and Scripture, she presents an enlightening look at how God wants to use His people mightily in the end times. Through her insightful words, you will find out how you can personally lead people to the Savior, receive your spiritual gifts, make sure you are ready for Christ's return, and build your faith for miracles. Discover the exciting opportunities available to believers in the last days, and experience God working through you in miraculous ways!
- Publisher


Meet the Author
Maria Woodworth-Etter
Maria Woodworth-Etter (1844 1924), an outstanding evangelist of the<P> late nineteenth and early twentieth centuries, operated in such power of<P> the Holy Spirit that thousands came to her meetings. Born in 1844 near<P> Lisbon, Ohio, she began to hold revival meetings at the age of thirty-six, first<P> in Ohio and then across North America. Maria's meetings were marked by<P> the miraculous healings, prophecies, and visions were regular occurrences.<P> Moved by these powerful signs and wonders of the Holy Spirit, thousands<P> came to know Jesus as their personal Savior. By 1889, Maria owned a
Table Of Contents
As Revealed Through Her Extraordinary Ministry, Maria Woodworth-etter Was Anointed By God To Reach The Sick And The Lost Of Christ. Drawing Upon Personal Experiences And Scripture, She Presents An Enlightening Look At How God Wants To Use His People Mightily In The End Times. Through Her Insightful Words, You Will Find Out How You Can Personally Lead People To The Savior, Receive Your Spiritual Gifts, Make Sure You Are Ready For Christ's Return, And Build Your Faith For Miracles. Discover The Exciting Opportunities Available To Believers In The Last Days, And Experience God Working Through You In Miraculous Ways!