The Hour That Matters Most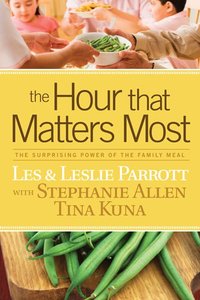 The facts are on the table. Dinnertime is truly the most important hour in a day that a family can spend together. Focusing on the family meal, this book will help strengthen families by showing them how to reclaim this important time in order to build relationships, draw closer to one another, and restore a sense of peace in their homes. Millions of parents can picture the kind of home life they want but don't know how to make it a reality. The Hour That Matters Most will help readers strengthen and transform their own families - specifically around the dinner table.



- Publisher
You May Also Be Interested In
About "The Hour That Matters Most"
The facts are on the table. Dinnertime is truly the most important hour in a day that a family can spend together. Focusing on the family meal, this book will help strengthen families by showing them how to reclaim this important time in order to build relationships, draw closer to one another, and restore a sense of peace in their homes. Millions of parents can picture the kind of home life they want but don't know how to make it a reality. The Hour That Matters Most will help readers strengthen and transform their own families - specifically around the dinner table.


- Publisher


Meet the Authors
Les Parrott
Les Parrott is founder of the Centre for Relationship Development on the campus of Seattle Pacific University and the best-selling author of HIGH-MAINTENANCE RELATIONSHIPS, THE CONTROL FREAK, and LOVE TALK. Dr. Parrott is a sought after speaker to Fortune 500 companies and holds relationship seminars across North America. He also hosts the US national radio broadcast 'Love Talk.' Dr Parrott has been featured in 'USA Today', 'the Wall Street Journal', and 'the New York Times'. His television appearances include CNN, Good Morning America, and Oprah.- Publisher.
Leslie Parrott
Dr. Leslie Parrott is a marriage and family therapist and codirector with her husband, Dr. Les Parrott, of the Center for Relationship Development at Seattle Pacific University. She is the author of God Made You Nose to Toes and The First Drop of Rain, and co-author with her husband of several bestselling books, including The Complete Guide to Marriage Mentoring, Relationships, Love Talk, and the Gold Medallion Award-winner, Saving Your Marriage before It Starts. Leslie is a columnist for Today's Christian Woman and has been featured on Oprah, CBS Morning, CNN, and The View, and in USA Today and the New York Times. www.RealRelationships.com
Koorong -Editorial Review.