The Hurt & the Healer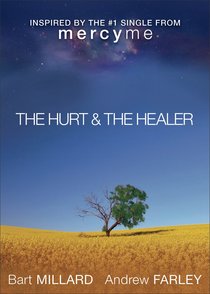 We all experience fear, shame, loneliness, broken homes, or broken hearts. We all hurt and need true, lasting healing. The trouble, according to bestselling author Andrew Farley and Bart Millard, lead singer of MercyMe, is that we don't know where to find it.

Inspired by MercyMe's #1 hit song of the same name, The Hurt & The Healer reveals exactly how God can be the gentle healer of all our hurts. Writing from the pain they've experienced in their lives, Millard and Farley reveal how their own struggles caused them to feel they had disappointed God. Through their biblical guidance, readers will see that God wants them to be open and honest about their pain. Only then can they discover how to exchange destructive thinking patterns for God's view of them and watch as God's perfect love casts away all their fears.

- Publisher
You May Also Be Interested In
About "The Hurt & the Healer"
We all experience fear, shame, loneliness, broken homes, or broken hearts. We all hurt and need true, lasting healing. The trouble, according to bestselling author Andrew Farley and Bart Millard, lead singer of MercyMe, is that we don't know where to find it.

Inspired by MercyMe's #1 hit song of the same name, The Hurt & The Healer reveals exactly how God can be the gentle healer of all our hurts. Writing from the pain they've experienced in their lives, Millard and Farley reveal how their own struggles caused them to feel they had disappointed God. Through their biblical guidance, readers will see that God wants them to be open and honest about their pain. Only then can they discover how to exchange destructive thinking patterns for God's view of them and watch as God's perfect love casts away all their fears.
- Publisher


Meet the Authors
Andrew Farley
Andrew Farley (Ph.D., University of Illinois at Urbana-Champaign) is lead pastor of Ecclesia, a growing evangelical church located on the high plains of west Texas. He was formerly a professor at University of Notre Dame. He co-hosts Real Life in Christ, a television program that airs on ABC-TV in the West Texas and New Mexico area. He is a tenured professor of Applied Linguistics at Texas Tech University, and lives in Lubbock, Texas with his wife Katharine and their son Gavin. He has authored books in linguistics and theology most recently The Naked Gospel: The Truth You May Never Hear in Church and God without Religion: Can It Really Be This Simple?
-Editorial Review.
Bart Millard
Bart Millard is the lead singer of the award-winning band MercyMe. With a double platinum album, four gold albums, thirteen consecutive top five singles on the Billboard Christian Songs chart, eight Dove awards, and numerous Grammy nominations, MercyMe continues to speak to people around the world of God's love, forgiveness, and healing. Their platinum song "I Can Only Imagine" is the most sold Christian song ever. The Hurt & The Healer will be promoted on their Fall 2013 and Spring 2014 tours in front of hundreds of thousands of fans.