The Hyperlinked Life (Frames Barna Group Series)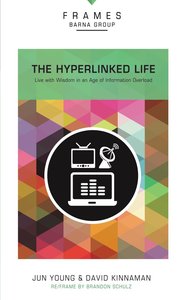 It's an age of accelerated information and information overload. The rate and way in which we receive information has changed dramatically: from newspapers and radio and a few nightly news programs to constant news online. We have made our lives available to the world in 'tweetable' moments. As much as we try to stop consuming the vast amounts of info coming at us, we wrestle against a paranoia of 'missing out' on important information or being out of the loop on something. How can we rest from information, take a Sabbath for our technology or information use? How does this help us to become the right kind of factivist? The onus is more and more on us to find 'the truth' and to be aware of our own biases in what we share and don't. Join Jun Young, an award-winning entrepreneur and communications strategist, and David Kinnaman, the President of Barna Group, in this Barna Frame as they wrestle through what our responsibility looks like in how we read and disseminate information.

- Publisher
You May Also Be Interested In
About "The Hyperlinked Life (Frames Barna Group Series)"
It's an age of accelerated information and information overload. The rate and way in which we receive information has changed dramatically: from newspapers and radio and a few nightly news programs to constant news online. We have made our lives available to the world in 'tweetable' moments. As much as we try to stop consuming the vast amounts of info coming at us, we wrestle against a paranoia of 'missing out' on important information or being out of the loop on something. How can we rest from information, take a Sabbath for our technology or information use? How does this help us to become the right kind of factivist? The onus is more and more on us to find 'the truth' and to be aware of our own biases in what we share and don't. Join Jun Young, an award-winning entrepreneur and communications strategist, and David Kinnaman, the President of Barna Group, in this Barna Frame as they wrestle through what our responsibility looks like in how we read and disseminate information.
- Publisher


Meet the Authors
Barna Group
In its 30-year history, Barna Group has conducted more than one million interviews over the course of hundreds of studies, and has become a go-to source for insights about faith and culture, leadership and vocation, and generations. Barna Group has carefully and strategically tracked the role of faith in America, developing one of the nation's most comprehensive databases of spiritual indicators. Notable clients include the Salvation Army, World Vision, Habitat for Humanity, Sony, Walden Media, Easter Seals, the Humane Society, the Gates Foundation, and NBC Universal. The firm's research is often quoted in major media outlets such as CNN, USA Today, the Wall Street Journal, Fox News, Chicago Tribune, Huffington Post, the New York Times, Dallas Morning News, and the Los Angeles Times.
David Kinnaman
David Kinnaman is president of The Barna Group, which provides research and resources that facilitate spiritual transformation in people's lives. Since joining Barna in 1995, David has designed and analyzed nearly five hundred studies for a variety of churches, nonprofits, and corporations. He and George Barna write a free research report published online at www.barna.org. David and his wife Jill have three children and live in California.
Jun Young
David Kinnaman is president of the Barna Group, a private research company located in Ventura, California. He is a much requested speaker on a variety of themes: cultural diversity, young adults, adolescents, vocation and leadership. He and his wife Jill and their three children live in California. SPANISH BIO: David Kinnaman es presidente de Barna Group, una compania privada de investigacion ubicada en Ventura, California. Es un requerido orador en temas como: cambio cultural, jovenes adultos, adolescentes, vocacion y liderazgo. el y Jill, su esposa, tienen tres hijos y viven en California. A
Other Titles In The "Frames Barna Group Series" Series View All