The Innkeeper of Ivy Hill (#01 in Tales From Ivy Hill Series)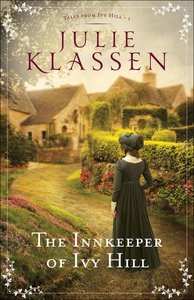 :First Series from Bestselling Author Julie Klassen!

On a rise overlooking the Wiltshire countryside stands the village of Ivy Hill. Its coaching inn, The Bell, is its lifeblood--along with the coach lines that stop there daily, bringing news, mail, travelers, and much-needed trade.

Jane Bell lives on the edge of the inn property. She had been a genteel lady until she married the charming innkeeper who promised she would never have to work in his family's inn. But when he dies under mysterious circumstances, Jane finds herself The Bell's owner, and worse, she has three months to pay a large loan or lose the place.

Feeling reluctant and ill-equipped, Jane is tempted to abandon her husband's legacy and return to her former life of ease. However, she soon realizes there is more at stake than her comfort. But who can she trust to help her? Her resentful mother-in-law? Her husband's brother, who wanted the inn for himself? Or the handsome newcomer with secret plans of his own?

With pressure mounting from the bank, Jane struggles to win over naysayers and turn the place around. Can Jane bring new life to the inn, and to her heart as well?

- Publisher
You May Also Be Interested In
About "The Innkeeper of Ivy Hill (#01 in Tales From Ivy Hill Series)"
:First Series from Bestselling Author Julie Klassen!

On a rise overlooking the Wiltshire countryside stands the village of Ivy Hill. Its coaching inn, The Bell, is its lifeblood--along with the coach lines that stop there daily, bringing news, mail, travelers, and much-needed trade.

Jane Bell lives on the edge of the inn property. She had been a genteel lady until she married the charming innkeeper who promised she would never have to work in his family's inn. But when he dies under mysterious circumstances, Jane finds herself The Bell's owner, and worse, she has three months to pay a large loan or lose the place.

Feeling reluctant and ill-equipped, Jane is tempted to abandon her husband's legacy and return to her former life of ease. However, she soon realizes there is more at stake than her comfort. But who can she trust to help her? Her resentful mother-in-law? Her husband's brother, who wanted the inn for himself? Or the handsome newcomer with secret plans of his own?

With pressure mounting from the bank, Jane struggles to win over naysayers and turn the place around. Can Jane bring new life to the inn, and to her heart as well?
- Publisher


Meet the Author
Julie Klassen
Klassen is a fiction editor with a background in advertising. Lady of Milkweed Manor is her first novel. Julie and her husband have two sons and liye in Minnesota.
Customer Reviews For "The Innkeeper of Ivy Hill (#01 in Tales From Ivy Hill Series)"
Write Your Own Review
Ivy Hill
By Dawn Hale,

Oct 22 2018
I enjoyed this story very much.  Set in an English village the story has a little mystery and intrigue.  A young widow whose husband died young left the Inn he owned to her.  The story revolves around how she learns how to run the Inn and restore it to make a profit to repay a loan her husband had taken out  which was due to be repaid.  I won't write more to spoil the story but there is a dishonest banker, a scheming brother in law to contend with but finishes on a happy note.
---
Wonderful!
By Susannah,

Jul 18 2018
I found this story to be engaging and was thrilled to have another Klassen book in my hands.  The language used and the gentle way parts of the story are told kept me hooked. With this being the first series she has written, I was so glad that I purchased the second book at the same time as the first because I didn't want to leave the village!  If you enjoy Jane Austen-esque stories, I'd highly recommend all of Julie Klassen's books.  Now to wait for the next one..
---
Romance, Friendship and Faith
By Tracy,

Feb 24 2018
The story is based around a small country community with some very interesting characters. It is a great story that kept me guessing the whole way through. It has a good balance of romance, friendship and faith. Looking forward to reading the next book in his series.
---
Not quite up there with some of her others
By Lisa,

Jan 15 2018
I've always been a big Julie Klassen fan!  I was excited to get my hands on a copy of this, the first of three in her first series.  Perhaps it is because it is a series and so many exciting love matches are still to be made in the following two books . . . but I didn't feel like this was as good as some of Julie Klassen's stand alone novels.  If you were to compare it to the Apothacary's Daughter, or Lady of Milkweed Manor, I'm afraid it deserves one less star than these.  I do look forward to getting the next of of the Ivy Hill series books though, to see how things turn out for Jane, and Rachel, and Mercy, and Locke! 
---
Exciting read!
By Colleen,

Jan 14 2018
Another of Julie Klassens masterpieces that weaves characters lives seemlessly throughout the book. Encouraging and full of anticipation. Great read. 
{{review.title}}
By {{review.author.name}},

{{review.reviewCreatedDate | date:'MMM dd yyyy'}}

{{reviewdescription}}
{{review.text}}
---
Other Titles In The "Tales From Ivy Hill" Series View All