The Innkeeper of Ivy Hill (#01 in Tales From Ivy Hill Series)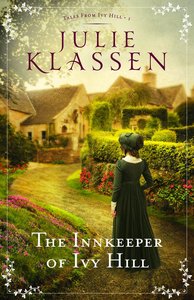 First Series from Bestselling Author Julie Klassen!

The lifeblood of the Wiltshire village of Ivy Hill is its coaching inn, The Bell. But when the innkeeper dies suddenly, his genteel wife, Jane Bell, becomes the reluctant owner. Jane has no notion of how to run a business. However, with the town's livelihood at stake and a large loan due, she must find a way to bring new life to the inn.

Despite their strained relationship, Jane turns to her resentful mother-in-law, Thora, for help. Formerly mistress of The Bell, Thora is struggling to find her place in the world. As she and Jane work together, they form a measure of trust, and Thora's wounded heart begins to heal. When she encounters two men from her past, she sees them--and her future--in a different light.

With pressure mounting from the bank, Jane employs innovative methods to turn the inn around, and puzzles over the intentions of several men who seem to have a vested interest in the place. Will her efforts be enough to save The Bell? And will Thora embrace the possibility of a second chance at love?

- Publisher
You May Also Be Interested In
About "The Innkeeper of Ivy Hill (#01 in Tales From Ivy Hill Series)"
First Series from Bestselling Author Julie Klassen!

The lifeblood of the Wiltshire village of Ivy Hill is its coaching inn, The Bell. But when the innkeeper dies suddenly, his genteel wife, Jane Bell, becomes the reluctant owner. Jane has no notion of how to run a business. However, with the town's livelihood at stake and a large loan due, she must find a way to bring new life to the inn.

Despite their strained relationship, Jane turns to her resentful mother-in-law, Thora, for help. Formerly mistress of The Bell, Thora is struggling to find her place in the world. As she and Jane work together, they form a measure of trust, and Thora's wounded heart begins to heal. When she encounters two men from her past, she sees them--and her future--in a different light.

With pressure mounting from the bank, Jane employs innovative methods to turn the inn around, and puzzles over the intentions of several men who seem to have a vested interest in the place. Will her efforts be enough to save The Bell? And will Thora embrace the possibility of a second chance at love?
- Publisher


Meet the Author
Julie Klassen
Klassen is a fiction editor with a background in advertising. Lady of Milkweed Manor is her first novel. Julie and her husband have two sons and liye in Minnesota.
Customer Reviews For "The Innkeeper of Ivy Hill (#01 in Tales From Ivy Hill Series)"
Write Your Own Review
Wonderful!
By Susannah,

Jul 18 2018
I found this story to be engaging and was thrilled to have another Klassen book in my hands.  The language used and the gentle way parts of the story are told kept me hooked. With this being the first series she has written, I was so glad that I purchased the second book at the same time as the first because I didn't want to leave the village!  If you enjoy Jane Austen-esque stories, I'd highly recommend all of Julie Klassen's books.  Now to wait for the next one..
---
Romance, Friendship and Faith
By Tracy,

Feb 24 2018
The story is based around a small country community with some very interesting characters. It is a great story that kept me guessing the whole way through. It has a good balance of romance, friendship and faith. Looking forward to reading the next book in his series.
---
Not quite up there with some of her others
By Lisa,

Jan 15 2018
I've always been a big Julie Klassen fan!  I was excited to get my hands on a copy of this, the first of three in her first series.  Perhaps it is because it is a series and so many exciting love matches are still to be made in the following two books . . . but I didn't feel like this was as good as some of Julie Klassen's stand alone novels.  If you were to compare it to the Apothacary's Daughter, or Lady of Milkweed Manor, I'm afraid it deserves one less star than these.  I do look forward to getting the next of of the Ivy Hill series books though, to see how things turn out for Jane, and Rachel, and Mercy, and Locke! 
---
Exciting read!
By Colleen,

Jan 14 2018
Another of Julie Klassens masterpieces that weaves characters lives seemlessly throughout the book. Encouraging and full of anticipation. Great read. 
---
Historical - Captivating
By Tanja,

Dec 26 2017
Ivy Hill is a fictional place, but it is modelled on a true location in England and the book and characters have a Jane Austin style-feel to it. This book was about Jane, who had lost her husband and the family business falls into her hands. She is not too sure if she has all it takes to be the manager of this business, which involves being the inn keeper. The book brings across the difficulties that women faced in the 1800s. In that time, sometimes if family members died they would have to give up the home they had lived in and ended up with nothing, no possessions at all. Even if they had come from privileged families, they could as a result of family tragedies, end up merely surviving. In the book, the author describes how Jane is nearly walked all over, because she was a woman and was lacking the knowledge of how to fight for herself. The story is not Jane's story alone, the author builds on several other characters in the imaginary place of Ivy Hill. This book is the first in the series, and I hope to read the next one which has already come out now!
{{review.title}}
By {{review.author.name}},

{{review.reviewCreatedDate | date:'MMM dd yyyy'}}

{{reviewdescription}}
{{review.text}}
---
Other Titles In The "Tales From Ivy Hill" Series View All