The Irresistible Church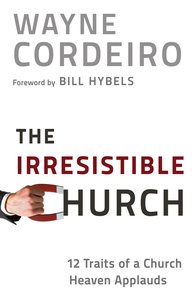 After more than 25 years of ministry in Hawaii, Wayne Cordeiro knows how to do church as a team. In his signature style, he shares this expertise with pastors, lay leaders, and people in the pew who want to see their churches become more vibrant. The 12 practical steps include ways to help people become part of a community, develop a culture of serving, turn visitors into regular attenders, and much more. This short, easy-to-read book is one pastors will want to share with their leadership team.

- Publisher
You May Also Be Interested In
About "The Irresistible Church"
After more than 25 years of ministry in Hawaii, Wayne Cordeiro knows how to do church as a team. In his signature style, he shares this expertise with pastors, lay leaders, and people in the pew who want to see their churches become more vibrant. The 12 practical steps include ways to help people become part of a community, develop a culture of serving, turn visitors into regular attenders, and much more. This short, easy-to-read book is one pastors will want to share with their leadership team.
- Publisher


Meet the Authors
Wayne Cordeiro
Wayne Cordeiro is senior pastor of New Hope Christian Fellowship in Honolulu, Hawaii, one of the nation's fastest growing churches. Pioneered by him, it has grown to over 12,000 in weekend attendance since 1995, with many attendees being first-time Christians. Wayne is an author, songwriter, and highly sought after conference speaker. His books include Doing Church as a Team, Attitudes that Attract Success, The Divine Mentor: Growing Your Faith as You Sit at the Feet of the Savior, and The Dream Releasers. His speaking takes him around the world. He is a church planter at heart and has helped to plant 83 churches in the Pacific Rim. His most recent publication is Leading on Empty: Refilling Your Tank and Renewing Your Passion.
Bill Hybels (Fwd)
Bill Hybels is the founding and senior pastor of Willow Creek Community Church in South Barrington, Illinois, one of the largest and most influential churches in North America, and the chairman of the board for Willow Creek Association. He convened The Global Leadership Summit in 1995, following a God-given prompting to help raise and develop the spiritual gift of leadership for the local church.

Both visionary and passionate about seeing every local church reach its full God-given potential, he speaks around the world on strategic issues related to leadership, evangelism, and church growth. An exceptional communicator, he is a best-selling author of more than 20 books on personal evangelism, marriage and especially on the subject of Christian leadership, including Just Walk Across the Room, Courageous Leadership and the newly released, The Power of a Whisper: Hearing God and Having the Guts to Respond.

Bill received a bachelor's degree in Biblical Studies and an honorary Doctorate of Divinity from Trinity College in Deerfield, IL. He and his wife, Lynne, have two adult children and one grandson.