The Irresistible Community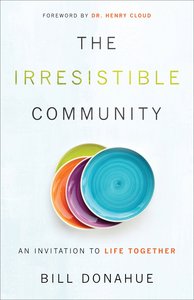 :We all want a place where our stories matter, our voices are heard, our uniqueness is celebrated, our failures are embraced, and our hopes are unleashed. That kind of deep, life-changing community was modeled perfectly by Jesus and the ragged bunch of disciples with whom he chose to spend his time. But how can we create it in our lives?

Using the relationship of Jesus to his disciples in the upper room, Bill Donahue presents a simple but compelling approach to community life that was modeled by Jesus and offered to us all today. Using a table, a towel, and the truth, Jesus created an "irresistible community" where everyone finds a place to belong, live fully in the truth, and serve others with joy. Foreword by Henry Cloud.

- Publisher
You May Also Be Interested In
About "The Irresistible Community"
:We all want a place where our stories matter, our voices are heard, our uniqueness is celebrated, our failures are embraced, and our hopes are unleashed. That kind of deep, life-changing community was modeled perfectly by Jesus and the ragged bunch of disciples with whom he chose to spend his time. But how can we create it in our lives?

Using the relationship of Jesus to his disciples in the upper room, Bill Donahue presents a simple but compelling approach to community life that was modeled by Jesus and offered to us all today. Using a table, a towel, and the truth, Jesus created an "irresistible community" where everyone finds a place to belong, live fully in the truth, and serve others with joy. Foreword by Henry Cloud.
- Publisher


Meet the Author
Bill Donahue
Dr. Bill Donahue (Ph.D., University of North Texas) is Executive Director of Small Group Ministries for the Willow Creek Association (WCA) and works with Willow Creek Community Church to train and develop small group leaders. The church has over 2,500 small groups and the WCA has over 12,000 member churches worldwide representing over 95 denominations in 27 countries.
He is the author of Leading Life-Changing Small Groups and coauthor of Building a Church of Small Groups, The 7 Deadly Sins of Small Group Ministry and Walking the Small Group Tightrope (all with Russ Robinson). With Greg Bowman he is the author of Coaching Life-Changing Leaders. He has also written In the Company of Jesus and the Jesus 101 small group study series (with Keri Wyatt Kent).