The Jazz Files (#01 in Poppy Denby Investigates Series)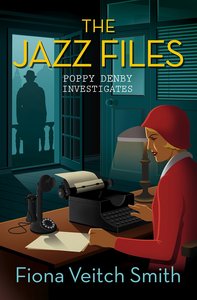 :It is 1920. Twenty-one year old Poppy Denby moves from Northumberland to live with her paraplegic aunt in London. Aunt Dot, a suffragette, was injured in battles with the police in 1910. Her contacts prove invaluable. Poppy lands a position as a receptionist at the Daily Globe. Poppy has always wanted to be a journalist and laps up the atmosphere of the news room. Then one of the paper's hacks falls suddenly ill and is taken to hospital. His story was going to be the morning lead, but he hasn?t finished writing it. Poppy finds his notes and completes the story, which is a sensation. The editor reluctantly agrees to allow Poppy to fill in for the sick journalist until a suitable replacement can be found. Poppy starts sifting through his files and unearths a major mystery which takes her to France ? and into danger. By the end of the story Poppy is a fixture on the paper, and is being courted by a photographer, a brooding widower.

- Publisher
You May Also Be Interested In
About "The Jazz Files (#01 in Poppy Denby Investigates Series)"
:It is 1920. Twenty-one year old Poppy Denby moves from Northumberland to live with her paraplegic aunt in London. Aunt Dot, a suffragette, was injured in battles with the police in 1910. Her contacts prove invaluable. Poppy lands a position as a receptionist at the Daily Globe. Poppy has always wanted to be a journalist and laps up the atmosphere of the news room. Then one of the paper's hacks falls suddenly ill and is taken to hospital. His story was going to be the morning lead, but he hasn?t finished writing it. Poppy finds his notes and completes the story, which is a sensation. The editor reluctantly agrees to allow Poppy to fill in for the sick journalist until a suitable replacement can be found. Poppy starts sifting through his files and unearths a major mystery which takes her to France ? and into danger. By the end of the story Poppy is a fixture on the paper, and is being courted by a photographer, a brooding widower.
- Publisher


Meet the Author
Fiona Veitch Smith
Fiona Veitch Smith has worked as a journalist in South Africa and the UK and is now an Associate Lecturer in Journalism at Newcastle University.
Other Titles In The "Poppy Denby Investigates Series" Series View All