The Jerk Magnet (#01 in Life At Kingston High Series)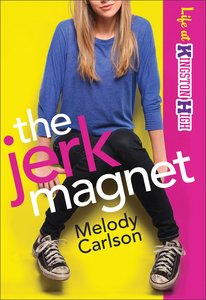 When Chelsea Martin's future stepmother helps her transform from gawky and geeky into the hottest girl at her new school, Chelsea is pretty sure it's the best thing that ever happened to her. But her hot new look has a downside. She's attracting lots of guys who all have one thing in common: they're jerks. And stealing the attention of all the guys in school doesn't endear her to the girls either.

Chelsea finally finds a true friend in Janelle Parker, and a non-jerk, Nicholas, catches her eye. Janelle keeps telling her to be herself, but Nicholas is the only guy around who doesn't give her a second look. Can Chelsea and Janelle come up with a plan to get his attention? Or will Chelsea's new image ruin everything?

Teen favorite and bestselling author Melody Carlson helps girls uncover the real source of beauty in this true-to-life story of young love, friendship, and being yourself.

- Publisher
You May Also Be Interested In
About "The Jerk Magnet (#01 in Life At Kingston High Series)"
When Chelsea Martin's future stepmother helps her transform from gawky and geeky into the hottest girl at her new school, Chelsea is pretty sure it's the best thing that ever happened to her. But her hot new look has a downside. She's attracting lots of guys who all have one thing in common: they're jerks. And stealing the attention of all the guys in school doesn't endear her to the girls either.

Chelsea finally finds a true friend in Janelle Parker, and a non-jerk, Nicholas, catches her eye. Janelle keeps telling her to be herself, but Nicholas is the only guy around who doesn't give her a second look. Can Chelsea and Janelle come up with a plan to get his attention? Or will Chelsea's new image ruin everything?

Teen favorite and bestselling author Melody Carlson helps girls uncover the real source of beauty in this true-to-life story of young love, friendship, and being yourself.
- Publisher


Meet the Author
Melody Carlson
Melody Carlson has published over ninety books for adults, children, and teens, with sales totaling more than two million and many titles appearing on the ECPA Bestsellers List. Several of her books have been finalists for, and winners of, various writing awards, including the Gold Medallion and the RITA Award. Some of her popular multi-volume series include Diary of a Teenage Girl and True Colours.
Other Titles In The "Life At Kingston High Series" Series