The Journey of Ministry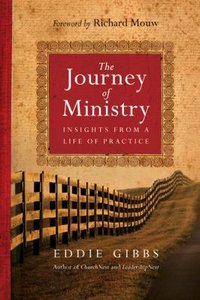 These days, everybody wants the latest killer app for successful ministry. But ministry is not plug-and-play technology. It is an art cultivated over a long-term journey of faithfulness and perseverance. In his most intimate book yet, Eddie Gibbs articulates a personal philosophy of ministry born from his storied career in teaching and pastoral ministry. Through images from his own life and family, Gibbs shows how effective ministry is a matter of walking slowly with the family of God, overcoming hurdles and facing challenges together. He explains how the early church offers helpful networking models for connecting in a fragmented technological age. Linking fresh biblical exposition with our contemporary realities, Gibbs gives practical advice for welcoming people into the family and helping them live out God's intentions for them. If you want your ministry to last, learn from those who have gone the distance. Discover here insights that will help you lead and serve for the long haul.

- Publisher
You May Also Be Interested In
About "The Journey of Ministry"
These days, everybody wants the latest killer app for successful ministry. But ministry is not plug-and-play technology. It is an art cultivated over a long-term journey of faithfulness and perseverance. In his most intimate book yet, Eddie Gibbs articulates a personal philosophy of ministry born from his storied career in teaching and pastoral ministry. Through images from his own life and family, Gibbs shows how effective ministry is a matter of walking slowly with the family of God, overcoming hurdles and facing challenges together. He explains how the early church offers helpful networking models for connecting in a fragmented technological age. Linking fresh biblical exposition with our contemporary realities, Gibbs gives practical advice for welcoming people into the family and helping them live out God's intentions for them. If you want your ministry to last, learn from those who have gone the distance. Discover here insights that will help you lead and serve for the long haul.
- Publisher


Meet the Author
Eddie Gibbs
Eddie Gibbs (D.Min., Fuller Theological Seminary) is director of the Institute for the Study of Emerging Churches at the Brehm Center for Worship, Theology, and the Arts and a senior professor in the School of Intercultural Studies at Fuller Theological Seminary in Pasadena, California. He is the author of numerous books, including Emerging Churches and the critically acclaimed ChurchNext (winner of a Christianity Today book award) and most recently ChurchMorph: How Megatrends Are Reshaping Christian Communities.
Table Of Contents
Foreword By Richard Mouw

Introduction - Including: We Each Have A Place In The Family

1. Walking: A Lifelong Journey In A Different Direction

2. Hurdling: Naming And Overcoming Obstacles To Progress

3. Dying: A Fruitful Way To Live

4. Teambuilding: Determined Walking And Working Alongside Others

5. Networking: Expanding Our Horizons In A Shrinking World

6. Communicating: Creative Engagement In Every Area Of Life

7. Recollecting: Staying Open To God's Unexpected Plans