The Just Church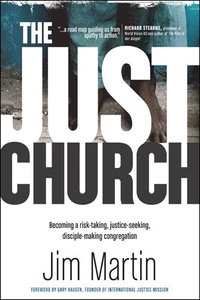 Are you ready for a new way to seek justice ? an ancient way to know God?
Finally, a practical guide on how to do justice and grow in discipleship ?from those on the frontlines of the battle in the world?s darkest and most dangerous places. Jim Martin and International Justice Mission are experts not only at bringing rescue to victims of violence, sex trafficking, slavery, and oppression, but also, at bringing churches into the fight, through concrete steps that actually make a difference. Learn how to carry out one of the Bible?s core commands?to seek justice?in a way that amounts to more than mere words and good intentions. In the process, you?ll discover one of the most powerful tools to grow faith and deepen discipleship. In The Just Church, Martin shares tangible, accessible strategies to respond to God?s call to seek justice, defend the widow and orphan, and rescue the oppressed . . . whether in far-off places or right in your own community

- Publisher
You May Also Be Interested In
About "The Just Church"
Are you ready for a new way to seek justice ? an ancient way to know God?
Finally, a practical guide on how to do justice and grow in discipleship ?from those on the frontlines of the battle in the world?s darkest and most dangerous places. Jim Martin and International Justice Mission are experts not only at bringing rescue to victims of violence, sex trafficking, slavery, and oppression, but also, at bringing churches into the fight, through concrete steps that actually make a difference. Learn how to carry out one of the Bible?s core commands?to seek justice?in a way that amounts to more than mere words and good intentions. In the process, you?ll discover one of the most powerful tools to grow faith and deepen discipleship. In The Just Church, Martin shares tangible, accessible strategies to respond to God?s call to seek justice, defend the widow and orphan, and rescue the oppressed . . . whether in far-off places or right in your own community
- Publisher


Meet the Author
Jim Martin
Jim Martin is Texas born and Oklahoma raised. He started writing at an early age, creating stories and plays which were performed in front of the class on a regular basis. Jim loves all things related to horror and suspense and, when he's not writing or reading, is usually in search of a great cup of coffee. This is his debut novel.
Media