The Key to the Middle East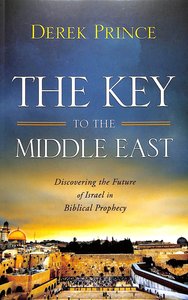 Evocative, Timely Teaching on the Future
of the Middle East and Israel

Internationally renowned Bible teacher and scholar Derek Prince examines the spirit, soul, and body of God's chosen land--Israel. Tracing her long, astonishing history, Prince offers insight into the mounting tension as Israel takes her place at the watershed of world events.

Prince also reveals the brutal errors of the Church toward this war-torn land and the debt all Christians owe. Further he exposes the destructive enemy now stalking the land of Israel. Most important, Prince brings us face-to-face with the God who guards his promises to his people.

Accessible and fascinating, this behind-the-scenes guide also reveals God's plans for all nations and what our future could look like. Readers will appreciate Prince's depth of understanding and interpretation of Scripture in the light of cataclysmic and approaching end-time events.

- Publisher
You May Also Be Interested In
About "The Key to the Middle East"
Evocative, Timely Teaching on the Future
of the Middle East and Israel

Internationally renowned Bible teacher and scholar Derek Prince examines the spirit, soul, and body of God's chosen land--Israel. Tracing her long, astonishing history, Prince offers insight into the mounting tension as Israel takes her place at the watershed of world events.

Prince also reveals the brutal errors of the Church toward this war-torn land and the debt all Christians owe. Further he exposes the destructive enemy now stalking the land of Israel. Most important, Prince brings us face-to-face with the God who guards his promises to his people.

Accessible and fascinating, this behind-the-scenes guide also reveals God's plans for all nations and what our future could look like. Readers will appreciate Prince's depth of understanding and interpretation of Scripture in the light of cataclysmic and approaching end-time events.
- Publisher


Meet the Author
Derek Prince
Derek Prince was born in India of British parents in 1915. He was educated at Eton College and Cambridge University, England, where he held a Fellowship in Ancient and Modern Philosophy at King's College. While serving with the British army in World War II, he began to study the Bible and experienced a life-changing encounter with Jesus Christ. He then devoted his life to studying and teaching the Bible.


Derek Prince taught and ministered on six continents for over seven decades, imparting God's revealed truth, praying for the sick and afflicted, and sharing his prophetic insights into world events in the light of Scripture. His daily radio broadcast Derek Prince Legacy Radio (formerly Keys to Successful Living), reaches more than half the world. He was the author of over 80 books, over 600 audio teachings, and over 100 video teachings, many of which have been translated and published in other languages. Derek Prince died in 2003 in Jerusalem.