The Key to the Middle East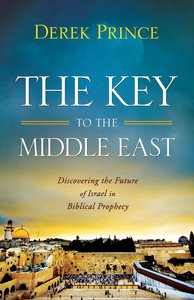 One Nation Holds the Key to the Destiny of Mankind

Though it may seem distant from our modern lives, the drama playing out in the Middle East on the world stage has consequences beyond what we can imagine. And in the tumult of it all, one tiny nation will become the watershed of world events, affecting us all.

In this accessible, behind-the-scenes guide, internationally renowned teacher and scholar Derek Prince goes beyond the headlines and immerses you in what the Bible has to say about Israel. Tracing her long, astonishing history, he offers insight into the mounting tension and exposes the destructive enemy now stalking this war-torn land.

Accessible and fascinating, The Key to the Middle East also reveals God's plans for all nations--and what our future could look like. Prince's depth of understanding and interpretation of Scripture will challenge and encourage you. But above all, you will be brought face-to-face with the God who remembers, honors and lovingly guards His promises to His people.

- Publisher
You May Also Be Interested In
About "The Key to the Middle East"
One Nation Holds the Key to the Destiny of Mankind

Though it may seem distant from our modern lives, the drama playing out in the Middle East on the world stage has consequences beyond what we can imagine. And in the tumult of it all, one tiny nation will become the watershed of world events, affecting us all.

In this accessible, behind-the-scenes guide, internationally renowned teacher and scholar Derek Prince goes beyond the headlines and immerses you in what the Bible has to say about Israel. Tracing her long, astonishing history, he offers insight into the mounting tension and exposes the destructive enemy now stalking this war-torn land.

Accessible and fascinating, The Key to the Middle East also reveals God's plans for all nations--and what our future could look like. Prince's depth of understanding and interpretation of Scripture will challenge and encourage you. But above all, you will be brought face-to-face with the God who remembers, honors and lovingly guards His promises to His people.
- Publisher


Meet the Author
Derek Prince
Derek Prince was born in India of British parents in 1915. He was educated at Eton College and Cambridge University, England, where he held a Fellowship in Ancient and Modern Philosophy at King's College. While serving with the British army in World War II, he began to study the Bible and experienced a life-changing encounter with Jesus Christ. He then devoted his life to studying and teaching the Bible.


Derek Prince taught and ministered on six continents for over seven decades, imparting God's revealed truth, praying for the sick and afflicted, and sharing his prophetic insights into world events in the light of Scripture. His daily radio broadcast Derek Prince Legacy Radio (formerly Keys to Successful Living), reaches more than half the world. He was the author of over 80 books, over 600 audio teachings, and over 100 video teachings, many of which have been translated and published in other languages. Derek Prince died in 2003 in Jerusalem.