The Kindness Challenge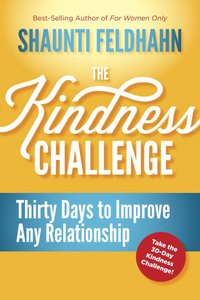 One month to a great relationship… with anyone!

Think of your toughest relationship. Think of a relationship that is good but could be great. Think of a group of people that drives you nuts. You want to show more kindness and generosity, but sometimes you're just tired, stretched, and frustrated. Besides, would small actions make that big a difference? Yes!

After years of extensive research, Shaunti Feldhahn has concluded that kindness is a superpower. It can change any relationship, make your life easier and better, and transform our culture. But how does it work? And how can you show kindness when you don't feel like it?

In The Kindness Challenge, Shaunti explores….
* Three simple acts that make all the difference in any relationship (with a spouse, child, co-worker, brother-in-law…)
* Whether kindness is ever the wrong approach
* The seven ways you may be unkind and never realize it
* Eight types of kindness-and which might be the best fit for you
* Ten sneaky obstacles that get in the way of giving praise
* Practical ways to persevere when kindness is tough
* How kindness in marriage leads to benefits in the bedroom (yes, really!)
* Why your acts of kindness today can help transform the world

With self-assessments, day-to-day tips, a 30-day challenge, and specific kindness ideas, The Kindness Challenge can make your toughest relationships better and your good relationships great-starting today.

Try the 30 Day Kindness Challenge and be a part of a kindness revolution in your home, your world, and yourself.

Have We Ever Needed Kindness More?

In The Kindness Challenge, innovative researcher Shaunti Feldhahn reveals three simple steps proven to make any interaction better and any relationship thrive-whether with a romantic partner, coworkers, a child, siblings, your hard-to-please stepmother, or rude people at the grocery store. You'll learn which ways of acting, speaking, and thinking will make the greatest difference for your life.

Doing these simple acts for thirty days not only has power to change the other person-it has the power to change you!

In these pages, Shaunti introduces you to a host of people from all walks of life who have tested the 30-Day Kindness Challenge in real-life situations and have seen the difference it makes. She shows you the inspiring results of her before-and-after surveys. And she challenges you not only to try the 30-Day Kindness Challenge for yourself but to be a part of the movement to transform our culture.

- Publisher
You May Also Be Interested In
About "The Kindness Challenge"
One month to a great relationship… with anyone!

Think of your toughest relationship. Think of a relationship that is good but could be great. Think of a group of people that drives you nuts. You want to show more kindness and generosity, but sometimes you're just tired, stretched, and frustrated. Besides, would small actions make that big a difference? Yes!

After years of extensive research, Shaunti Feldhahn has concluded that kindness is a superpower. It can change any relationship, make your life easier and better, and transform our culture. But how does it work? And how can you show kindness when you don't feel like it?

In The Kindness Challenge, Shaunti explores….
* Three simple acts that make all the difference in any relationship (with a spouse, child, co-worker, brother-in-law…)
* Whether kindness is ever the wrong approach
* The seven ways you may be unkind and never realize it
* Eight types of kindness-and which might be the best fit for you
* Ten sneaky obstacles that get in the way of giving praise
* Practical ways to persevere when kindness is tough
* How kindness in marriage leads to benefits in the bedroom (yes, really!)
* Why your acts of kindness today can help transform the world

With self-assessments, day-to-day tips, a 30-day challenge, and specific kindness ideas, The Kindness Challenge can make your toughest relationships better and your good relationships great-starting today.

Try the 30 Day Kindness Challenge and be a part of a kindness revolution in your home, your world, and yourself.

Have We Ever Needed Kindness More?

In The Kindness Challenge, innovative researcher Shaunti Feldhahn reveals three simple steps proven to make any interaction better and any relationship thrive-whether with a romantic partner, coworkers, a child, siblings, your hard-to-please stepmother, or rude people at the grocery store. You'll learn which ways of acting, speaking, and thinking will make the greatest difference for your life.

Doing these simple acts for thirty days not only has power to change the other person-it has the power to change you!

In these pages, Shaunti introduces you to a host of people from all walks of life who have tested the 30-Day Kindness Challenge in real-life situations and have seen the difference it makes. She shows you the inspiring results of her before-and-after surveys. And she challenges you not only to try the 30-Day Kindness Challenge for yourself but to be a part of the movement to transform our culture.
- Publisher


Meet the Author
Shaunti Feldhahn
January 2008: Shaunti Feldhahn began her career as an analyst on Wall Street and today is a best-selling author, speaker, and nationally-syndicated newspaper columnist. Her recent bestsellers, For Women Only: What You Need to Know About the Inner Lives of Men, and For Men Only: A Straightforward Guide to the Inner Lives of Women, have led to great life-change - and plenty of fascinating conversation - for men and women around the country. Her newest books, For Parents Only and For Young Women Only, coauthored with youth speaker Lisa Rice, are causing buzz among parents and teenage girls respectively. She has also authored two true-to-life spiritual thrillers.Shaunti's background as an analyst is the launching point for the compelling and eye-opening nature of her books, talks, and columns. She holds a master's in public policy from Harvard University, and a bachelor's in government and economics from The College of William and Mary. Prior to becoming an author, she worked in the financial arena on Capitol Hill and later on Wall Street, analyzing the Japanese financial crisis for the highest level decision makers of the Federal Reserve System.As a national speaker, Shaunti travels extensively and has shared her findings with millions of people through conferences, television, and radio. She has appeared on such diverse media outlets as PBS, TNT, Soap Talk, The Alan Colmes Show, Focus on the Family, FamilyLife Today, and The 700 Club. Her weekly opinion columns are printed in fifty newspapers around the country, including the Atlanta Journal-Constitution, the Chicago Tribune, the Detroit Free Press, and The Seattle Times.Shaunti and her husband Jeff, with whom she coauthored For Men Only, are active leaders in their church and live in the Atlanta area with their two young children.