The Language of Sex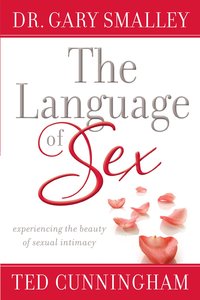 :Relationship expert and bestselling author Gary Smalley finally tackles a topic that's on everybody's mind: sex. With his pastor and friend, Ted Cunningham, Smalley nudges past our hang-ups and sacred cows to answer the question, How can I have the best sex of my life? The answer may surprise you. Did you know that great sex begins with security, which leads to intimacy, which leads to incredible sex? It's only as we take an honest look at the differences between men and women and find ways to bridge the gap that we can create the security and intimacy that great sex needs to flourish. In The Language of Sex, Smalley and Ted Cunningham peel back the layers of mystery and show us how to do just that!

- Publisher
You May Also Be Interested In
About "The Language of Sex"
:Relationship expert and bestselling author Gary Smalley finally tackles a topic that's on everybody's mind: sex. With his pastor and friend, Ted Cunningham, Smalley nudges past our hang-ups and sacred cows to answer the question, How can I have the best sex of my life? The answer may surprise you. Did you know that great sex begins with security, which leads to intimacy, which leads to incredible sex? It's only as we take an honest look at the differences between men and women and find ways to bridge the gap that we can create the security and intimacy that great sex needs to flourish. In The Language of Sex, Smalley and Ted Cunningham peel back the layers of mystery and show us how to do just that!
- Publisher


Meet the Authors
Gary Smalley
Gary Smalley, one of the foremost experts on family relationships, has written or co-written 28 best-selling, award winning books selling over six millions copies, as well as several popular films and videos, based on more than 30 years of experience as a teacher, counsellor and speaker. The Blessing and The Two Sides of Love have won Gold Medallions, The Language of Love won the Angel Award as the best contribution to family life and all other titles have been top-five finalists for the Gold Medallion Award. His latest book is the DNA of Relationships. Gary and his wife, Norma, have been married for over thirty years.
Ted Cunningham
TED CUNNINGHAM is the founding pastor of Woodland Hills Family Church in Branson, Missouri. Speaking on colleges campuses, at marriage conferences and retreats, Ted is passionate about inspiring couples with biblical teaching. He is a speaker for the Smalley Relationship Center and The National Institute for Marriage. Ted is also the co-founder of Twoignite, a national local churchnbsp;initiative igniting couples through adventure, and co-creator ofnbsp;Tripfire.com. He is the co-author of The Language of Sex and From Anger to Intimacy with Dr. Gary Smalley. Ted is a graduate of Liberty University and Dallas Theological Seminary. Married for over thirteennbsp;years to his wife, Amy, they have two wonderful children, Corynn and Carson.