The Last Martin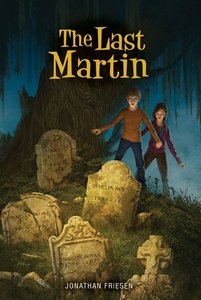 There's always a Martin. One Martin. Martin Boyle already has plenty to worry about. His germaphobic mother keeps him home from school if she hears so much as a sneeze, and his father is always off somewhere reenacting old war battles. Julia, the most beautiful girl in school, won't even speak to Martin, and the gym teacher is officially out to get him. Which is why Martin really doesn't need this curse hanging over his head. On a trip to the family cemetery, Martin wanders among the tombstones of his ancestors and discovers a disturbing pattern: when one Martin is born, the previous Martin dies. And---just his luck---Martin's aunt is about to give birth to a baby boy, who will, according to tradition, be named Martin. Martin must find a way to break the curse, but every clue seems to lead to a dead end. And time is running out.

- Publisher
You May Also Be Interested In
About "The Last Martin"
There's always a Martin. One Martin. Martin Boyle already has plenty to worry about. His germaphobic mother keeps him home from school if she hears so much as a sneeze, and his father is always off somewhere reenacting old war battles. Julia, the most beautiful girl in school, won't even speak to Martin, and the gym teacher is officially out to get him. Which is why Martin really doesn't need this curse hanging over his head. On a trip to the family cemetery, Martin wanders among the tombstones of his ancestors and discovers a disturbing pattern: when one Martin is born, the previous Martin dies. And---just his luck---Martin's aunt is about to give birth to a baby boy, who will, according to tradition, be named Martin. Martin must find a way to break the curse, but every clue seems to lead to a dead end. And time is running out.
- Publisher


Meet the Author
Jonathan Friesen
Jonathan Friesen is an author, speaker, and youth writing coach from Mora, Minnesota. His first young adult novel, Jerk, California, received the ALA Schneider Award. When heÆs not writing, speaking at schools, or teaching, Jonathan loves to travel and hang out with his wife and three kids.
Media