The Last Temple (#03 in Last Disciple Series)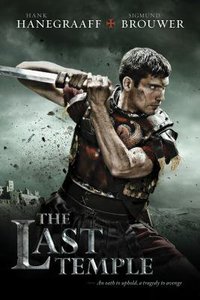 Set in the turbulent years just before one of the most horrendous events in Jewish history, The Last Temple concludes the trilogy of The Last Disciple and The Last Sacrifice. Vitas is reunited with his wife and retires to Alexandria, determined to live a quiet, domestic life. But he can?t avoid the debts that he owes to the men who saved him, and he becomes a key figure in the plot to rid the empire of Nero. It sweeps him into the ?year of four emperors,? when the Roman Empire is nearly destroyed, and takes him back to Jerusalem as Titus lays siege to the great city. Only then, as the prophecy of Jesus begins to unfold, does Vitas discover the true mission set before him and the astounding conspiracy behind it.

- Publisher
You May Also Be Interested In
About "The Last Temple (#03 in Last Disciple Series)"
Set in the turbulent years just before one of the most horrendous events in Jewish history, The Last Temple concludes the trilogy of The Last Disciple and The Last Sacrifice. Vitas is reunited with his wife and retires to Alexandria, determined to live a quiet, domestic life. But he can?t avoid the debts that he owes to the men who saved him, and he becomes a key figure in the plot to rid the empire of Nero. It sweeps him into the ?year of four emperors,? when the Roman Empire is nearly destroyed, and takes him back to Jerusalem as Titus lays siege to the great city. Only then, as the prophecy of Jesus begins to unfold, does Vitas discover the true mission set before him and the astounding conspiracy behind it.
- Publisher


Meet the Authors
Hank Hanegraaff
Hank Hanegraaff serves as the president of the California-based Christian Research Institute. He has also worked as the host of the Bible Answer Man radio broadcast in the United States and Canada. He is the author of such books as Counterfeit Revival, Crisis in Christianity and Resurrection and was general editor in the updating of Dr. Walter Martin's classic The Kingdom of the Cults. Also a regular contributor to the Christian Research Journal, Hanegraaff conducts seminars and lectures worldwide. He lives in Charlotte, North Carolina.
Sigmund Brouwer
Sigmund Brouwer is the award-winning author of scores of books, from youth fiction to adult thrillers. His books has been lauded in publications such as Library Journal and Booklist and he has received the Alberta Film and Literary Arts Writing Grant twice. He speaks at schools, home-schooling conventions, writing camps and seminars to provide encouragement to reluctant readers and writers and to encourage youth to follow their dreams of a career in writing. He co-founded The Young Writer's Institute with education expert Debra Bell. Brouwer teaches writing courses at Red Deer College. Brouwer, his wife and daughter divide their time between Tennessee and Alberta.- Publisher.
Media
Other Titles In The "Last Disciple Series" Series View All