The Last Word (Sophie Trace Trilogy Book #2) (#02 in Sophie Trace Trilogy Series)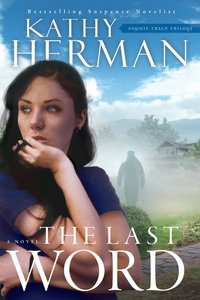 When Vanessa Jessup returns home from her sophomore year of college, her mother, Police Chief Brill Jessup, is stunned to see that she's pregnant by one of her professors. Brill is glad Vanessa rejected the father's abortion ultimatum, but hurt that she ignored her upbringing and angry that the professor has disappeared without a trace.

But that's not all Brill's got on her plate. One of her detectives has been killed, and the attacker has threatened to come for her next. When a second cop is wounded, public criticism mounts as Brill attempts to stay alive long enough to catch the perp. And she's trying to find that deadbeat dad as Vanessa struggles to make decisions about her future. The killer seems to be everywhere and nowhere. How can a police chief and a mother do her job with her life on the line? In a show of grace under pressure, Brill will manage to have the last word, even if it kills her.

Kathy Herman returns to Sophie Trace in this page-turner about God's power to heal the broken.

- Publisher
You May Also Be Interested In
About "The Last Word (Sophie Trace Trilogy Book #2) (#02 in Sophie Trace Trilogy Series)"
When Vanessa Jessup returns home from her sophomore year of college, her mother, Police Chief Brill Jessup, is stunned to see that she's pregnant by one of her professors. Brill is glad Vanessa rejected the father's abortion ultimatum, but hurt that she ignored her upbringing and angry that the professor has disappeared without a trace.

But that's not all Brill's got on her plate. One of her detectives has been killed, and the attacker has threatened to come for her next. When a second cop is wounded, public criticism mounts as Brill attempts to stay alive long enough to catch the perp. And she's trying to find that deadbeat dad as Vanessa struggles to make decisions about her future. The killer seems to be everywhere and nowhere. How can a police chief and a mother do her job with her life on the line? In a show of grace under pressure, Brill will manage to have the last word, even if it kills her.

Kathy Herman returns to Sophie Trace in this page-turner about God's power to heal the broken.
- Publisher


Meet the Author
Kathy Herman
Kathy Herman, bestselling author of The Baxter series, Poor Mrs. Rigsby, and the Seaport Suspense novels, is at home in the Christian book industry. She spent five years on staff at the Christian Booksellers Association and eleven years as a retailer specializing in children's products at Better Books Christian Center in Tyler, Texas . Kathy and her husband, Paul, have three grown children and five grandchildren. They enjoy world travel, deep sea fishing, and bird watching - sometimes incorporating all three into one big adventure!
Other Titles In The "Sophie Trace Trilogy" Series