The Life of Jesus (What The Bible Is All About Bible Study Series)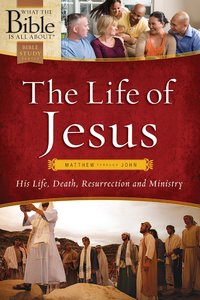 With Dr. Mears as teacher and mentor, readers will study the four accounts of Jesus Christ's life and ministry from the books of Matthew, Mark, Luke, and John. They will gain a big-picture understanding of key events?Jesus? miraculous birth, His ministry, His teachings, and His crucifixion and resurrection?yet also see how each Gospel evangelist chose to emphasize particular themes for his reading audience.

Twelve sessions of study give readers an opportunity to examine Jesus? life in depth, whether on their own or with a group, and discussion/reflection questions invite groups or individuals to go even deeper.

- Publisher
You May Also Be Interested In
About "The Life of Jesus (What The Bible Is All About Bible Study Series)"
With Dr. Mears as teacher and mentor, readers will study the four accounts of Jesus Christ's life and ministry from the books of Matthew, Mark, Luke, and John. They will gain a big-picture understanding of key events?Jesus? miraculous birth, His ministry, His teachings, and His crucifixion and resurrection?yet also see how each Gospel evangelist chose to emphasize particular themes for his reading audience.

Twelve sessions of study give readers an opportunity to examine Jesus? life in depth, whether on their own or with a group, and discussion/reflection questions invite groups or individuals to go even deeper.
- Publisher


Meet the Authors
Henrietta Mears
DR. HENRIETTA C. MEARS is well known as the teacher of some of the most influential Christian leaders of our time, including Billy Graham and Bill Bright. She was the founder of Gospel Light, GLINT and Forest Home Christian Conference Center, and the author of the best-selling Bible handbook What the Bible is All About. Miss Mears died on March 20, 1963, leaving behind a ministry that still thrives today.
Bayard Taylor
Bayard Taylor holds an M.Div. with an emphasis in cross-cultural studies from Trinity Evangelical Divinity School. He spent four years working with Campus Crusade for Christ and currently is Senior Editor of Biblical and Theological Issues at Gospel Light/Regal Books. Bayard has also edited such bestselling books as So What's the Difference? by Fritz Ridenour and Fasting for Spiritual Breakthrough by Elmer Towns.
Other Titles In The "What The Bible Is All About Bible Study" Series View All