The Life Ready Woman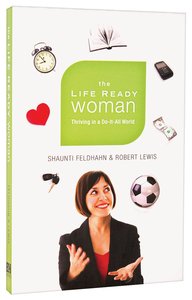 Whether a stay-at-home mum or an airplane-hopping executive, a student or a senior adult, every woman needs a contemporary, encouraging vision for what it means to be a godly, biblically guided female in the twenty-first century. A biblical woman takes God's Word seriously not just at church but also in the everyday walk of life.

But can a significant and satisfying twenty-first-century womanhood really be defined from Scripture? One that can apply to all women and yet not be guilty of cookie-cutter sameness, pressing everyone into a common mold? One that will stay fresh even as a woman grows older? One that can guide her to the best in life? The answer is yes, and the result is a femininity without excesses and regrets that mark those who just go with the flow of the world.

In The Life Ready Woman, best-selling author Shaunti Feldhahn helps readers take five faith steps drawn from the Bible that will help to define the best life possible. Each one is easy to understand, but requires bold faith to activate. The reward is being ready for the deeper life that God has planned.



- Publisher
You May Also Be Interested In
About "The Life Ready Woman"
Whether a stay-at-home mum or an airplane-hopping executive, a student or a senior adult, every woman needs a contemporary, encouraging vision for what it means to be a godly, biblically guided female in the twenty-first century. A biblical woman takes God's Word seriously not just at church but also in the everyday walk of life.

But can a significant and satisfying twenty-first-century womanhood really be defined from Scripture? One that can apply to all women and yet not be guilty of cookie-cutter sameness, pressing everyone into a common mold? One that will stay fresh even as a woman grows older? One that can guide her to the best in life? The answer is yes, and the result is a femininity without excesses and regrets that mark those who just go with the flow of the world.

In The Life Ready Woman, best-selling author Shaunti Feldhahn helps readers take five faith steps drawn from the Bible that will help to define the best life possible. Each one is easy to understand, but requires bold faith to activate. The reward is being ready for the deeper life that God has planned.


- Publisher


Meet the Authors
Shaunti Feldhahn
January 2008: Shaunti Feldhahn began her career as an analyst on Wall Street and today is a best-selling author, speaker, and nationally-syndicated newspaper columnist. Her recent bestsellers, For Women Only: What You Need to Know About the Inner Lives of Men, and For Men Only: A Straightforward Guide to the Inner Lives of Women, have led to great life-change - and plenty of fascinating conversation - for men and women around the country. Her newest books, For Parents Only and For Young Women Only, coauthored with youth speaker Lisa Rice, are causing buzz among parents and teenage girls respectively. She has also authored two true-to-life spiritual thrillers.Shaunti's background as an analyst is the launching point for the compelling and eye-opening nature of her books, talks, and columns. She holds a master's in public policy from Harvard University, and a bachelor's in government and economics from The College of William and Mary. Prior to becoming an author, she worked in the financial arena on Capitol Hill and later on Wall Street, analyzing the Japanese financial crisis for the highest level decision makers of the Federal Reserve System.As a national speaker, Shaunti travels extensively and has shared her findings with millions of people through conferences, television, and radio. She has appeared on such diverse media outlets as PBS, TNT, Soap Talk, The Alan Colmes Show, Focus on the Family, FamilyLife Today, and The 700 Club. Her weekly opinion columns are printed in fifty newspapers around the country, including the Atlanta Journal-Constitution, the Chicago Tribune, the Detroit Free Press, and The Seattle Times.Shaunti and her husband Jeff, with whom she coauthored For Men Only, are active leaders in their church and live in the Atlanta area with their two young children.
Robert Lewis
Robert Lewis is the best-selling author of Raising a Modern-Day Knight and Rocking the Roles: Building a Win-Win Marriage. He also serves on the board of directors for Leadership Network, is founder of Mens Fraternity, and pastor-at-large for Fellowship Bible Church in Little Rock, Arkansas. In 2001, he was named Pastor of the Year by the National Coalition of Mens Ministry. He and his wife, Sherard, have four children. His latest book is The New Eve: Choosing God's best for your Life.