The Life Recovery Bible NLT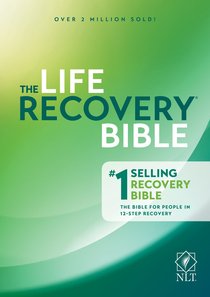 You May Also Be Interested In
About "The Life Recovery Bible NLT"
The Life Recovery Bible 25th Anniversary Edition points to God himself as the primary source of recovery. Millions of people have been helped by this Bible. New articles provide a fresh perspective on recovery. Help for leaders is provided in a general facilitator's guide and a step-by-step meeting guide. These offer help to anyone starting or running recovery groups at church or in the community.

Features:
New inspirational Preface
Article: A Word about Addictions
Article: An Early History of Life Recovery
Article: Thriving in a Secular Recovery Group
Article: Life-Giving Recovery Groups in the Church
Life Recovery Facilitator's Guide
Step-by-Step Life Recovery Meeting Guide
The 12 Christian Foundations of Life Recovery
The 12 Self-Evident Truths of Life Recovery
Resources page, directing readers to helpful books and online resources
- Publisher
Meet the Authors
Stephen Arterburn
Stephen Arterburn is the founder and chairman of New Life Ministries, America's largest faith-based broadcast, counselling, and treatment ministry, and is the host of New Life Live!- a daily radio program heard on more than 180 radio stations nationwide. He has been featured in publications such as The New York Times, USA Today, and TIME magazine. Arterburn is also the founder of the 'Women of Faith' conferences and has written over 60 books, including the best-selling Every Man's series.
He has been nominated for writing awards and has won three Gold Medallion awards. Arterburn is a well-known public speaker and in August 2000 was inducted into the National Speakers Association's Hall of Fame. He lives with his family in Laguna Beach, California. Some of his published works include Transformation, Finding Mr Right, Control what is controlling you, Boiling Point and NLT Every Man's Bible.
Koorong -Editorial Review.
David Stoop
David Stoop, Ph.D., is a licensed clinical psychologist in California. He received a master's in theology from Fuller Theological Seminary and a doctorate from the University of Southern California. David is the founder and director of The Center for Family Therapy in Newport Beach, California. He is also an adjunct professor at Fuller Seminary and serves on the executive board of the American Association of Christian Counselors. David is a Gold Medallion?winning author and has written more than 25 books