The Lion Book of 1000 Prayers For Children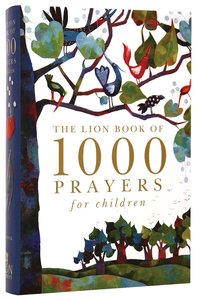 Since its publication in 2003, this book has established itself as an indispensable compendium of prayers for children. With prayers from the Bible, traditional sources, modern anthologies and others written specially for this collection, the prayers touch on all aspects of life: friends and family; festivals and special occasions; home and school; the world; for good times and bad times; for health, sickness and bereavement; for peace and the future; and for our relationship with God. The prayers are numbered and carefully indexed to make them easy to browse and look up, meaning that the user can make the perfect choice for any occasion. With 15,000 copies sold to date, this popular resource is now available with a new cover and a revised list of prayers.



- Publisher This is a collection of prayers, dealing with every aspect of a child's life, faith and delight in the world. The prayers are organized by theme and carefully indexed to make the book easy to use and to browse.

- Publisher
You May Also Be Interested In
About "The Lion Book of 1000 Prayers For Children"
Since its publication in 2003, this book has established itself as an indispensable compendium of prayers for children. With prayers from the Bible, traditional sources, modern anthologies and others written specially for this collection, the prayers touch on all aspects of life: friends and family; festivals and special occasions; home and school; the world; for good times and bad times; for health, sickness and bereavement; for peace and the future; and for our relationship with God. The prayers are numbered and carefully indexed to make them easy to browse and look up, meaning that the user can make the perfect choice for any occasion. With 15,000 copies sold to date, this popular resource is now available with a new cover and a revised list of prayers.


- Publisher

This is a collection of prayers, dealing with every aspect of a child's life, faith and delight in the world. The prayers are organized by theme and carefully indexed to make the book easy to use and to browse.
- Publisher


Meet the Author
Lois Rock
Lois Rock is a highly respected and trusted author, acclaimed in many different countries for her books of prayers and Bible stories. Her books have sold over 4 million copies worldwide. Lois lives in Oxfordshire and enjoys cycling around the Chilterns with her husband. She is the mother of three children and has helped to lead church children's groups for many years, experience that she draws on when writing books for children. Amongst her best-selling books are My Very First Bible, A Little Life of Jesus, The Lion Bible: Everlasting Stories, The Lion Book of Five-Minute Bible Stories, The Jesus Encyclopedia and The Lion Illustrated Bible for Children.- Publisher.