The Little Green Book of Eco-Fascism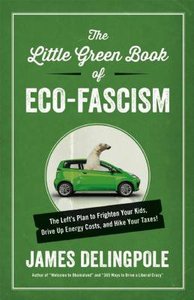 Written in A to Z format and printed on guaranteed un-recycled paper made from the pulp of a thousand rare hardwood trees using nothing but the purest cruel-harvested baby squid ink,,The Little Green Book of Eco-Fascism is your pocket guide to everything that's wrong, funny, and downright crazy about the green movement
- Publisher
You May Also Be Interested In
About "The Little Green Book of Eco-Fascism"
Written in A to Z format and printed on guaranteed un-recycled paper made from the pulp of a thousand rare hardwood trees using nothing but the purest cruel-harvested baby squid ink,,The Little Green Book of Eco-Fascism is your pocket guide to everything that's wrong, funny, and downright crazy about the green movement
- Publisher
Meet the Author
James Delingpole
James Delingpole is a journalist, broadcaster and author of six books including How To Be Right, Thinly Disguised Autobiography, and the Dick Coward series. He writes for the Daily and Sunday Telegraph, the Daily Mail, the Mail On Sunday, the Sunday Times, The Times, the Independent On Sunday on everything from rock to culture to politics and gardening. He is married with children and lives in South London.