The Long Awakening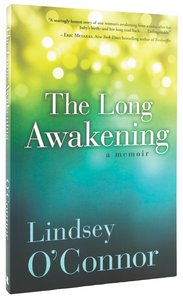 On a crisp October day in 2002, Lindsey O'Connor woke from a 47-day medically induced coma. She heard her ecstatic husband's voice and saw his face as she emerged from the depths of unconsciousness. She was bewildered by the people around her who looked so overjoyed and were so thoroughly attentive and attuned to her every move. Then came the question: "Do you remember that you had a baby?" Lindsey drifted in and out of consciousness again for weeks. When she finally and gradually surfaced permanently from her long submersion, she struggled to understand that the day her baby came into the world was the day she left it. Her awakening was the happy ending for her family and friends-the miracle they had been praying for-but it was just the beginning of Lindsey's long and frightening journey toward a new reality. With visceral images and richly layered storytelling, Lindsey O'Connor vividly tells the poignant true story of the struggle to re-enter her world and rebuild her identity. Underlying this life and death battle is a story of lost and found love, the effort to make sense of life-altering events, and the continuing search for self. This moving memoir paints a powerful picture of pain, beauty, and the unsurpassable gift of finally knowing who you are.

- Publisher
You May Also Be Interested In
About "The Long Awakening"
On a crisp October day in 2002, Lindsey O'Connor woke from a 47-day medically induced coma. She heard her ecstatic husband's voice and saw his face as she emerged from the depths of unconsciousness. She was bewildered by the people around her who looked so overjoyed and were so thoroughly attentive and attuned to her every move. Then came the question: "Do you remember that you had a baby?" Lindsey drifted in and out of consciousness again for weeks. When she finally and gradually surfaced permanently from her long submersion, she struggled to understand that the day her baby came into the world was the day she left it. Her awakening was the happy ending for her family and friends-the miracle they had been praying for-but it was just the beginning of Lindsey's long and frightening journey toward a new reality. With visceral images and richly layered storytelling, Lindsey O'Connor vividly tells the poignant true story of the struggle to re-enter her world and rebuild her identity. Underlying this life and death battle is a story of lost and found love, the effort to make sense of life-altering events, and the continuing search for self. This moving memoir paints a powerful picture of pain, beauty, and the unsurpassable gift of finally knowing who you are.
- Publisher


Meet the Author
Lindsey O'Connor
Lindsey O'Connor is a public speaker and the author of The Christian's Guide to Working at Home (more than 100,000 copies sold) and If Mama Ain't Happy, Ain't Nobody Happy (more than 120,000 copies sold). She has appeared on television and radio and at national conferences such as Heritage Keepers and Hearts at Home. O'Connor and her family live in Castle Rock, Colorado.