The Long Ride Home (Keystone Stables Series)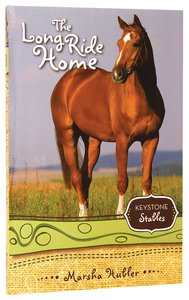 'The search begins for the parents Skye never knew. But what will happen if she finds them? On a trip to South Carolina with her foster family, Skye gets the shock of her life when the waitress at a local diner seems to recognize her. The woman proves to be Skye's long-lost Aunt Millie---Skye's first-ever contact with her flesh-and-blood family! As Skye and Mom and Dad Chambers attempt to track down her real parents with Millie's help. Skye's foster sister and best friend, Morgan, struggles with her own family regrets. More is at stake than anyone can imagine---and the outcome is one that only a truly amazing God can bring about.'

- Publisher
You May Also Be Interested In
About "The Long Ride Home (Keystone Stables Series)"
'The search begins for the parents Skye never knew. But what will happen if she finds them? On a trip to South Carolina with her foster family, Skye gets the shock of her life when the waitress at a local diner seems to recognize her. The woman proves to be Skye's long-lost Aunt Millie---Skye's first-ever contact with her flesh-and-blood family! As Skye and Mom and Dad Chambers attempt to track down her real parents with Millie's help. Skye's foster sister and best friend, Morgan, struggles with her own family regrets. More is at stake than anyone can imagine---and the outcome is one that only a truly amazing God can bring about.'
- Publisher


Meet the Author
Marsha Hubler
Marsha Hubler is a homeschool consultant, evaluator, and educator specializing in elementary education and learning disabilities. She and her husband, Richard, were foster parents to countless children for more than eleven years. They live in Middleburg, Pennsylvania.
Other Titles In The "Keystone Stables" Series View All