The Lost Boy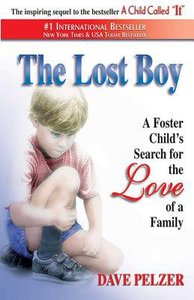 Imagine a young boy who has never had a loving home. His only possesions are the old, torn clothes he carries in a paper bag. The only world he knows is one of isolation and fear. Although others had rescued this boy from his abusive alcoholic mother, his real hurt is just begining -- he has no place to call home.

This is Dave Pelzer's long-awaited sequel to A Child Called "It". In The Lost Boy, he answers questions and reveals new adventures through the compelling story of his life as an adolescent. Now considered an F-Child (Foster Child), Dave is moved in and out of five different homes. He suffers shame and experiences resentment from those who feel that all foster kids are trouble and unworthy of being loved just because they are not part of a "real" family.

Tears, laughter, devastation and hope create the journey of this little lost boy who searches desperately for just one thing -- the love of a family.

- Publisher
You May Also Be Interested In
About "The Lost Boy"
Imagine a young boy who has never had a loving home. His only possesions are the old, torn clothes he carries in a paper bag. The only world he knows is one of isolation and fear. Although others had rescued this boy from his abusive alcoholic mother, his real hurt is just begining -- he has no place to call home.

This is Dave Pelzer's long-awaited sequel to A Child Called "It". In The Lost Boy, he answers questions and reveals new adventures through the compelling story of his life as an adolescent. Now considered an F-Child (Foster Child), Dave is moved in and out of five different homes. He suffers shame and experiences resentment from those who feel that all foster kids are trouble and unworthy of being loved just because they are not part of a "real" family.

Tears, laughter, devastation and hope create the journey of this little lost boy who searches desperately for just one thing -- the love of a family.
- Publisher


Meet the Author
Dave Pelzer
Dave Pelzer is the #1 New York Times and #1 internationally bestselling author of A Child Called "It," The Lost Boy, A Man Named Dave, and Help Yourself. He travels extensively throughout the country speaking to thousands of people about overcoming obstacles in their lives. He has appeared on Oprah, The Montel Williams Show, among other national media.