The Lost Heiress (#01 in Ladies Of The Manor Series)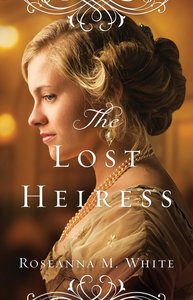 Roseanna White Debuts Sparkling British Historical Romance

Brook Eden has never known where she truly belongs. Though raised in the palace of Monaco, she's British by birth and was brought to the Grimaldis under suspicious circumstances as a babe. When Brook's friend Justin uncovers the fact that Brook is likely a missing heiress from Yorkshire, Brook leaves the sun of the Mediterranean to travel to the moors of the North Sea to the estate of her supposed family.

The mystery of her mother's death haunts her, and though her father is quick to accept her, the rest of the family and the servants of Whitby Park are not. Only when Brook's life is threatened do they draw close--but their loyalty may come too late to save Brook from the same threat that led to tragedy for her mother.

As heir to a dukedom, Justin is no stranger to balancing responsibilities. When the matters of his estate force him far from Brook, the distance between them reveals that what began as friendship has grown into something much more. But how can their very different loyalties and responsibilities ever come together?

And then, for a second time, the heiress of Whitby Park is stolen away because of
the very rare treasure in her possession--and this time only the servants of Whitby can save her.

- Publisher
You May Also Be Interested In
About "The Lost Heiress (#01 in Ladies Of The Manor Series)"
Roseanna White Debuts Sparkling British Historical Romance

Brook Eden has never known where she truly belongs. Though raised in the palace of Monaco, she's British by birth and was brought to the Grimaldis under suspicious circumstances as a babe. When Brook's friend Justin uncovers the fact that Brook is likely a missing heiress from Yorkshire, Brook leaves the sun of the Mediterranean to travel to the moors of the North Sea to the estate of her supposed family.

The mystery of her mother's death haunts her, and though her father is quick to accept her, the rest of the family and the servants of Whitby Park are not. Only when Brook's life is threatened do they draw close--but their loyalty may come too late to save Brook from the same threat that led to tragedy for her mother.

As heir to a dukedom, Justin is no stranger to balancing responsibilities. When the matters of his estate force him far from Brook, the distance between them reveals that what began as friendship has grown into something much more. But how can their very different loyalties and responsibilities ever come together?

And then, for a second time, the heiress of Whitby Park is stolen away because of
the very rare treasure in her possession--and this time only the servants of Whitby can save her.
- Publisher


Meet the Author
Roseanna White
ROSEANNA WHITE is the author of two novels</br> and a senior reviewer for Christian Review of</br> Books. She grew up in the mountains of West</br> Virginia and now lives in Maryland with her</br> husband and two young children. Read more at</br> www.roseannawhite.com.
Customer Reviews For "The Lost Heiress (#01 in Ladies Of The Manor Series)"
Write Your Own Review
Another Sleepless Night
By becinchina,

Jan 18 2018
Such great suspense and my favourite 'friendship-turned-love' backdrop. I couldn't put it down. Though now I have to be up in a few short hours. Oh well. I still think it was worth it.
---
brilliant
By Marija,

Feb 02 2017
This book was brilliant. Every now and then I stumble across a book like this that is so beautifully and thoughtfully written that I find myself reading parts over and over just to enjoy the loveliness of the words. From the first page, Roseanna White brings to life the glittering world of the Edwardian upper class. The story is a perfect balance of intriguing mystery and sweet romance, while the characters are delightfully real and their faith inspiring. I am looking forward to reading the rest of the series!
---
Surprised! Thrilled!
By Rochelle, NSW,

Feb 29 2016
I've not read Roseanna M. White before and am pleased to say I'm looking forward to the next one!
Brook Eden has a Best friend in Justin who is heir to a dukedom. But as the truth of Brooks heritage is uncovered and accepted can they discover and admit their true feelings?
As we meet the 'family'; the Uncles, Cousins, Aunts and Parents there is weaved a wonderful and captivating story of history and life. 
The supporting characters which include the House servants help to enhance and anchor the story.
There is a fantastic mix of romance and suspense. A plot, a curse, misunderstanding, communication, faith and revelation and the list could go on!
I really enjoyed meeting Brook and Justin and being drawn into their story and the story of those around them. Watching for the next book in the 'Ladies of the Manor' series.
I know you'll enjoy this first book!
---
Beautiful story of real love
By Hannah,

Jan 28 2016
Having never read anything by this author before, I was delighted with how much I enjoyed reading this book. It had me captivated from the first page to the final one, waiting to see what Brook (and her ever-faithful friend Justin, not to mention the rest of her quirky new-found family!) would get up to next. But more than their escapades, I love what they all learnt about the value of relationship and truly valuing someone as they are, and not who you want them to be. A beautifully written story and can't wait to read more by this author. 

---
Beautiful Read
By Anthea,

Dec 24 2015
This is my first time reading a book by Roseanne M. White and I was not disappointed. The book caught my eye on one of the end displays in store and the blurb made me desperate to read it. 

This book journeys with Eden as she discovers a long lost family after being raised in Monaco with the royal family. She deals with family members and staff not accepting her and her own journey to fit in while staying true to her faith. 

Through out the book i found myself empathising with Eden and getting frustrated when both Eden and Justin wouldn't admit their feeling for each other- I was so worried at one point that there wouldn't be a happy ending. 

The book is not without a mystery and suspense which really drives the book along. 

I recommend this if you love mystery with romance and a great summer read.
{{review.title}}
By {{review.author.name}},

{{review.reviewCreatedDate | date:'MMM dd yyyy'}}

{{reviewdescription}}
{{review.text}}
---
Other Titles In The "Ladies Of The Manor Series" Series