The Maestro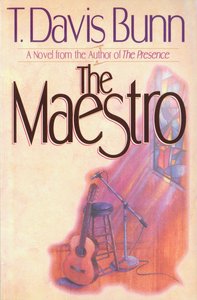 The Maestro is a beautifully paced story that begins with the childhood of a very talented American-born classical guitarist, Gianni, who through tragic reversals comes to be raised by his grandmother first in Italy and then in Germany. Dealing with his pain and his "magnificent gift," Gianni passes through a decade of darkness where he moves away from his classical background and develops into a renowned and versatile guitarist, dazzling the clubs of Milano with his late-night jazz set. Also playing as an acclaimed studio musician, his life nevertheless tumbles ever deeper into the despair of drink, drugs, and affairs.

By invitation from an old friend, Gianni travels to Germany and is confronted with the radical faith of a contemporary Christian music group whose life stories read like his. In a highly realistic and dramatic style, Gianni must deal with his doubts about God, his fears, the unforgiveness of those who hurt him most, and ultimately find salvation. There is no holding back from the issues of real faith as he reorders his life under the miraculous touch of God's intervention.

A moving story of grace and commitment in the lives of real people. Just what readers are looking for!

- Publisher
You May Also Be Interested In
About "The Maestro"
The Maestro is a beautifully paced story that begins with the childhood of a very talented American-born classical guitarist, Gianni, who through tragic reversals comes to be raised by his grandmother first in Italy and then in Germany. Dealing with his pain and his "magnificent gift," Gianni passes through a decade of darkness where he moves away from his classical background and develops into a renowned and versatile guitarist, dazzling the clubs of Milano with his late-night jazz set. Also playing as an acclaimed studio musician, his life nevertheless tumbles ever deeper into the despair of drink, drugs, and affairs.

By invitation from an old friend, Gianni travels to Germany and is confronted with the radical faith of a contemporary Christian music group whose life stories read like his. In a highly realistic and dramatic style, Gianni must deal with his doubts about God, his fears, the unforgiveness of those who hurt him most, and ultimately find salvation. There is no holding back from the issues of real faith as he reorders his life under the miraculous touch of God's intervention.

A moving story of grace and commitment in the lives of real people. Just what readers are looking for!
- Publisher


Meet the Author
T Davis Bunn
Davis Bunn is an internationally-acclaimed award-winning author who has sold more than four million books in fifteen languages. He has been honoured with three Christy Awards for excellence in historical and suspense fiction. He has written several bestsellers including Winner Take All, Drummer in the Dark, The Meeting Place, The Book of Hours, Imposter, and The Quilt. He's also the co-author of the Song of Acadia series with Janette Oke. As a result of his book, To the Ends of the Earth, Bunn was named the Novelist in Residence at Regent's Park College, Oxford University. - Publisher.