The Maid of Fairbourne Hall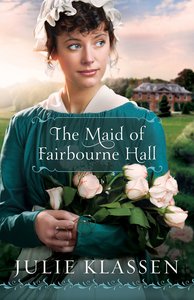 To escape a scheme to marry her off to a dishonorable man, Margaret Macy flees London disguised as a housemaid. If she can remain unwed until her next birthday, she will receive an inheritance, and with it, sweet independence. But she never planned on actually working as a servant. And certainly not in the home of Nathaniel and Lewis Upchurch--both former suitors.
As she fumbles through the first real work of her life, Margaret struggles to keep her identity secret when suspicions arise and prying eyes visit Fairbourne Hall. Can she avoid a trap meant to force her from hiding?

Brimming with romance and danger, The Maid of Fairbourne Hall takes readers inside the fascinating belowstairs world of a 19th-century English manor, where appearances can be deceiving.

- Publisher
You May Also Be Interested In
About "The Maid of Fairbourne Hall"
To escape a scheme to marry her off to a dishonorable man, Margaret Macy flees London disguised as a housemaid. If she can remain unwed until her next birthday, she will receive an inheritance, and with it, sweet independence. But she never planned on actually working as a servant. And certainly not in the home of Nathaniel and Lewis Upchurch--both former suitors.
As she fumbles through the first real work of her life, Margaret struggles to keep her identity secret when suspicions arise and prying eyes visit Fairbourne Hall. Can she avoid a trap meant to force her from hiding?

Brimming with romance and danger, The Maid of Fairbourne Hall takes readers inside the fascinating belowstairs world of a 19th-century English manor, where appearances can be deceiving.

- Publisher
- Koorong

Regency Romance and Mystery from Bestselling Author Julie Klassen

Pampered Margaret Macy flees London in disguise to escape pressure to marry a dishonorable man. With no money and nowhere else to go, she takes a position as a housemaid in the home of Nathaniel Upchurch, a suitor she once rejected in hopes of winning his dashing brother. Praying no one will recognize her, Margaret fumbles through the first real work of her life. If she can last until her next birthday, she will gain an inheritance from a spinster aunt--and sweet independence. But can she remain hidden as a servant even when prying eyes visit Fairbourne Hall?

Observing both brothers as an "invisible" servant, Margaret learns she may have misjudged Nathaniel. Is it too late to rekindle his admiration? And when one of the family is nearly killed, Margaret alone discovers who was responsible. Should she come forward, even at the risk of her reputation and perhaps her life? And can she avoid an obvious trap meant to force her from hiding?

On her journey from wellborn lady to servant to uncertain future, Margaret must learn to look past appearances and find the true meaning of "serve one another in love."
- Publisher


Meet the Author
Julie Klassen
Klassen is a fiction editor with a background in advertising. Lady of Milkweed Manor is her first novel. Julie and her husband have two sons and liye in Minnesota.
Customer Reviews For "The Maid of Fairbourne Hall"
Write Your Own Review
Another amazing book by Julie Klassen
By Naomi,

Jan 16 2018
I have read this book about 5 times and love it more each time I read it. Maid of Fairbourne Hall is a truly great read - gives you the inside look at the lives of servants (below-stairs) and their interactions with the masters of the house. Full of mystery, romance and intrigue. Once you pick it up you will not want to put it down - get ready for a trip back in time and enjoy the ride.
---
Great reading
By Bryony,

Mar 19 2016
I really enjoyed the book by Julie Klassen. Once again she brought a novel with an interesting setting and a plot with a twist. Highly recommend this book!
---
Really Enjoyable
By Booklovers1,

Jun 26 2013
I have been wanting to read this story for a long time and am thankful that I have! Julie Klassen is an amazing and talented author. Although it took a while to get engaged with The Maid of Fairbourne Hall, I thoroughly enjoyed it and couldn't get away from it!! Klassen writes in such a fluent and subtle way that you don't even know you are getting hooked!! The character development works in the same way. In the beginning I rather disliked Nathaniel and Helen, liking Lewis instead. I don't know when that exactly happened, but in the end I was rather fond of Nathaniel and Helen, wishing them every happiness. 

The mystery is that Margaret disguises herself as a housemaid. Initially no-one notices but then certain situations arise where Helen and Nathaniel find out, but this is definitely not spelt out as you have to read between the lines. This was so much fun because it's like a secret you share with them, as secret kept from Margaret. 
However I was rather disappointed with the romance between Nathaniel and Helen. I would have liked to see a bit more chemistry that gradually developed, instead of pulling it together in the last few chapters. Yet there are other characters that highlight an unexpected romance, which I found really sweet.
The mystery Klassen incorporated was also really good! The many circumstances ranging from people searching for Margaret (especially her step father) to Lewis being shot, really kept the story moving. Although some were resolved rather quickly, a new mystery would be revealed keeping readers interesting.

---
Captivating
By Hannah,

Nov 15 2012
After reading others of Julie Klassen's books, I couldn't wait to begin this one - and I wasn't disappointed. I found it a little slow to begin with but quickly became captivated by the story she wove and by half way through, couldn't put it down! I love the way Julie puts so many historical facts in her stories. Can't think of a better way to learn about the past! I'd highly recommend any books by this author.
{{review.title}}
By {{review.author.name}},

{{review.reviewCreatedDate | date:'MMM dd yyyy'}}

{{reviewdescription}}
{{review.text}}
---