The Maiden of Mayfair (#01 in Tales Of London Series)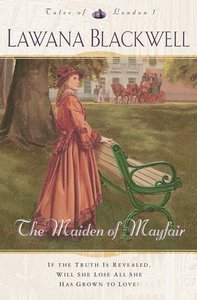 If the Truth is Revealed, Will She Lose All She's Grown to Love?

An orphanage in the slums of London is the only home Sarah Matthews has ever known. When she is suddenly whisked away to a wealthy widow's home in the prestigious Mayfair district, Sarah can't fathom what has happened. Why would this elderly woman, a stranger, want her company? But Dorothea Blake has reasons she isn't revealing.

As Sarah blossoms into a young woman, the secret Mrs. Blake harbors threatens to make them both outcasts among London's elite. When a visitor unknowingly stumbles upon the truth, he puts Sarah at risk of losing everything she holds dear, including the attentions of a new curate. Will the mystery of her birth remain buried forever?

- Publisher
You May Also Be Interested In
About "The Maiden of Mayfair (#01 in Tales Of London Series)"
If the Truth is Revealed, Will She Lose All She's Grown to Love?

An orphanage in the slums of London is the only home Sarah Matthews has ever known. When she is suddenly whisked away to a wealthy widow's home in the prestigious Mayfair district, Sarah can't fathom what has happened. Why would this elderly woman, a stranger, want her company? But Dorothea Blake has reasons she isn't revealing.

As Sarah blossoms into a young woman, the secret Mrs. Blake harbors threatens to make them both outcasts among London's elite. When a visitor unknowingly stumbles upon the truth, he puts Sarah at risk of losing everything she holds dear, including the attentions of a new curate. Will the mystery of her birth remain buried forever?
- Publisher


Meet the Author
Lawana Blackwell
Lawana Blackwell is a full-time writer and the author of the the bestselling GRESHAM CHRONICLES series. A writing course at Louisiana State University rekindled her dream of writing, then she learned the craft of writing fiction under bestselling author Gilbert Morris. She and her husband live in Louisiana and have three sons.
Other Titles In The "Tales Of London" Series