The Making of a Mom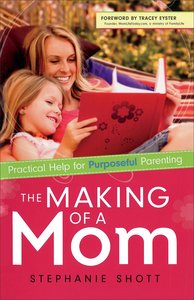 :Weaving biblical insight together with real life stories, Stephanie Shott helps moms discover the joy of parenting with purpose. This unique and comprehensive view of motherhood gives moms a sense of comfort, confidence, and freedom to not only navigate the often tumultuous waters of motherhood, but to also know they aren't alone in the journey.

Then it takes moms a step beyond their day-to-day struggles, offering practical advice on pursuing small groups and mentoring relationships with other moms, not only in the local church, but in crisis pregnancy centers, homeless shelters, juvenile homes, and more, truly showing that together we can change the world--one mom at a time.

Chapters include:
1. Not Alone
2. It's a Beautiful Life
3. A Different Me
4. How Do I Love Thee
5. May I Have Your Attention
6. Speaking Words of Wisdom
7. Character Counts
8. Overwhelmed
9. Setting Goals
10. Imprints Moms Make
11. Always a Mom
12. Parenting from Your Knees

- Publisher
You May Also Be Interested In
About "The Making of a Mom"
:Weaving biblical insight together with real life stories, Stephanie Shott helps moms discover the joy of parenting with purpose. This unique and comprehensive view of motherhood gives moms a sense of comfort, confidence, and freedom to not only navigate the often tumultuous waters of motherhood, but to also know they aren't alone in the journey.

Then it takes moms a step beyond their day-to-day struggles, offering practical advice on pursuing small groups and mentoring relationships with other moms, not only in the local church, but in crisis pregnancy centers, homeless shelters, juvenile homes, and more, truly showing that together we can change the world--one mom at a time.

Chapters include:
1. Not Alone
2. It's a Beautiful Life
3. A Different Me
4. How Do I Love Thee
5. May I Have Your Attention
6. Speaking Words of Wisdom
7. Character Counts
8. Overwhelmed
9. Setting Goals
10. Imprints Moms Make
11. Always a Mom
12. Parenting from Your Knees
- Publisher


Meet the Author
Stephanie Shott
Stephanie Shott is a Bible teacher, conference speaker, author, and mentor who has been ministering to women for over twenty years. She has been called upon by television and radio hosts to share her story of a decade of child abuse, her conception as a result of rape, and her ministry to moms and mentors through The M.O.M. Initiative, of which she is the founder. She lives in Florida.