The Many Faces of Evil (2004)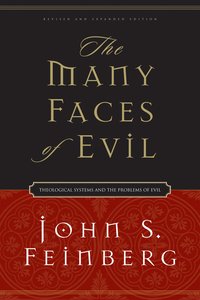 Questions about God and evil can be perplexing, even a source of despair. If God exists, why do children die of leukemia and malnutrition? Why does God allow torture and genocide? Why would a fair God condemn people to eternal suffering? John Feinberg's classic is one of the most significant books ever written on the problem of evil. It shows how the formulation of the problem and the response to it will vary depending on one's understanding of God. Throughout his discussion, Feinberg maintains a vigorous defence of both God's sovereignty and human responsibility. Of special note in this revised and expanded edition is a chapter on the doctrine of hell and the benevolence of God in relation to unending torment.

544 pages, from Crossway.
You May Also Be Interested In
About "The Many Faces of Evil (2004)"
Questions about God and evil can be perplexing, even a source of despair. If God exists, why do children die of leukemia and malnutrition? Why does God allow torture and genocide? Why would a fair God condemn people to eternal suffering? John Feinberg's classic is one of the most significant books ever written on the problem of evil. It shows how the formulation of the problem and the response to it will vary depending on one's understanding of God. Throughout his discussion, Feinberg maintains a vigorous defence of both God's sovereignty and human responsibility. Of special note in this revised and expanded edition is a chapter on the doctrine of hell and the benevolence of God in relation to unending torment.

544 pages, from Crossway.
- Koorong

^In this examination of the questions posed by the problem of evil, John Feinberg addresses the intellectual and theological framework of theodicy. Beginning with a discussion of the logical problem of evil, he interacts with leading thinkers who have previously written on these themes.
- Publisher


Meet the Author
John S Feinberg
John S. Feinberg is the chair and professor of Biblical and Systematic Theology at Trinity Evangelical Divinity School in Deerfield, Illinois. Prior to coming to Trinity, he pastored a church in Illinois, and then taught at Western Baptist Seminary and Liberty University. Dr. Feinberg did his undergraduate work at UCLA, received his M.Div. at Talbot Theological Seminary, his Th.M. in systematic theology from Trinity, and an M.A. and Ph.D. in philosophy from the University of Chicago. Among his previously published books are Continuity and Discontinuity, Ethics for a Brave New World, The