The Mark of Salvation (#03 in Scottish Crown Series)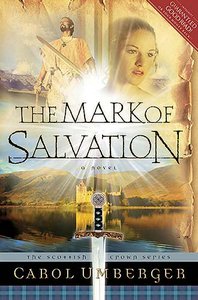 Romance in a time of great conflict continues in the third book of the highlysuccessful Scottish Crown series.

- Publisher The warrior known as Ceallach is ordered to protect a group of imprisoned Englishwomen including the newly widowed and expectant mother, Orelia. As Orelia mourns the death of her husband and celebrates the coming birth of her son, she captures the eye of Ceallach and a romance ensues. When she is called back to her homeland to reclaim what rightfully belongs to her son, she encounters grave danger, as there are those who do not want to see her succeed. Ceallach comes to the rescue of the women he loves and is forced to confront his greatest fear - capture and extreme torture by the evil Edward. Together they fight to secure their homeland while struggling to understand where God is amidst their circumstances and His plan for their eternal salvation.

- Publisher Author Carol Umberger combines her love of history, romance, and God in a quartet of powerful stories set in 14th-century Scotland during the reign of Robert the Bruce, Scotland's great hero king.

- Publisher
You May Also Be Interested In
About "The Mark of Salvation (#03 in Scottish Crown Series)"
Romance in a time of great conflict continues in the third book of the highlysuccessful Scottish Crown series.
- Publisher

The warrior known as Ceallach is ordered to protect a group of imprisoned Englishwomen including the newly widowed and expectant mother, Orelia. As Orelia mourns the death of her husband and celebrates the coming birth of her son, she captures the eye of Ceallach and a romance ensues. When she is called back to her homeland to reclaim what rightfully belongs to her son, she encounters grave danger, as there are those who do not want to see her succeed. Ceallach comes to the rescue of the women he loves and is forced to confront his greatest fear - capture and extreme torture by the evil Edward. Together they fight to secure their homeland while struggling to understand where God is amidst their circumstances and His plan for their eternal salvation.
- Publisher

Author Carol Umberger combines her love of history, romance, and God in a quartet of powerful stories set in 14th-century Scotland during the reign of Robert the Bruce, Scotland's great hero king.
- Publisher


Meet the Author
Carol Umberger
Carol Umberger won the 2001 Golden Heart Award from the Romance Writers of America for Circle of Honor, the first book in the Scottish Crown Series. A twelve-year veteran of the United States Air Force, Carol has been married to Tom Schwendtner for twenty years, and they have two sons. Umberger lives in Colorado Springs, Co.
Other Titles In The "Scottish Crown" Series View All