The Master Plan of Evangelism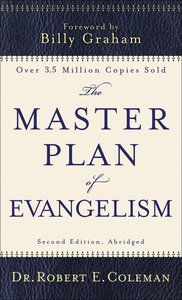 For more than forty years this classic study has challenged and instructed more than 1.5 million readers in reaching the world for Christ. With a foreword by Billy Graham and now repackaged for a new generation of readers, The Master Plan of Evangelism will show every Christian how to minister to the people God brings into their lives.

Instead of drawing on the latest popular fad or the newest selling technique, Robert E. Coleman looks to the Bible to find the answer to the question, What was Christ's strategy for evangelism? Through a thorough examination of the gospel accounts, Coleman points out unchanging, simple, yet profound biblical principles of how to emulate Christ to others.

- Publisher
You May Also Be Interested In
About "The Master Plan of Evangelism"
For more than forty years this classic study has challenged and instructed more than 1.5 million readers in reaching the world for Christ. With a foreword by Billy Graham and now repackaged for a new generation of readers, The Master Plan of Evangelism will show every Christian how to minister to the people God brings into their lives.

Instead of drawing on the latest popular fad or the newest selling technique, Robert E. Coleman looks to the Bible to find the answer to the question, What was Christ's strategy for evangelism? Through a thorough examination of the gospel accounts, Coleman points out unchanging, simple, yet profound biblical principles of how to emulate Christ to others.
- Publisher


Meet the Authors
Robert E Coleman
Robert E. Coleman is Distinguished Professor of Evangelism and Discipleship at Gordon-Conwell Theological Seminary in South Hamilton, MA. Formerly, he was dean of the International Billy Graham Schools of Evangelism and directed the Institute of Evangelism at the Billy Graham Center in Wheaton, IL., while also directing the School of World Mission and Evangelism at Trinity Evangelical Divinity in Deerfield, IL. A founding member of the Lausanne Committee for World Evangelization, he is the author of hundreds of articles and about twenty books. His books have been published in over 100 languages with English editions alone passing seven million copies in print.
Billy Graham (Fwd)
An American icon and the greatest religious leader of our time; hailed as the world's preacher, Billy Graham's career has spanned more than five decades and his ministry of faith has touched the hearts and souls of millions. He has preached the Gospel to more people in a live-audience format than anyone else in history - more than 210 million people, in more than 185 countries and territories through various meetings, including Mission World and Global Mission.
Today Billy Graham and his ministry are known around the globe. He has preached in remote African villages and in the heart of New York City, and those to whom he has ministered have ranged from heads of state to the simple living bushmen of Australia and the wandering tribes of Africa and the Middle East.
Since 1977, Dr. Graham has been accorded the opportunity to conduct preaching missions in virtually every country of the former Eastern bloc, including the former Soviet Union. Born William Franklin Graham, Jr., in Charlotte, North Carolina, in 1918, he entered the ministry in 1943 and soon began conducting evangelistic crusades. In 1950, he founded The Billy Graham Evangelistic Association, which has sponsored crusades and produced radio and television programs as well as films.
Dr. Graham has written 24 books, many of which have become top sellers. His autobiography, Just As I Am, published in 1997, achieved a "triple crown," appearing simultaneously on the three top best-seller lists in one week. Billy Graham has been honoured with many awards. He lives in Montreat, North Carolina. His wife Ruth passed away on June 14, 2007
-Publisher.