The Masterpiece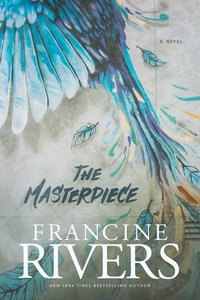 New York Times bestselling author Francine Rivers returns to her romance roots with this unexpected and redemptive love story, a probing tale that reminds us that mercy can shape even the most broken among us into an imperfect yet stunning masterpiece.

A successful LA artist, Roman Velasco appears to have everything he could possibly want-money, women, fame. Only Grace Moore, his reluctant, newly hired personal assistant, knows how little he truly has. The demons of Roman's past seem to echo through the halls of his empty mansion and out across his breathtaking Topanga Canyon view. But Grace doesn't know how her boss secretly wrestles with those demons: by tagging buildings as the Bird, a notorious but unidentified graffiti artist-an alter ego that could destroy his career and land him in prison.

Like Roman, Grace is wrestling with ghosts and secrets of her own. After a disastrous marriage threw her life completely off course, she vowed never to let love steal her dreams again. But as she gets to know the enigmatic man behind the reputation, it's as if the jagged pieces of both of their pasts slowly begin to fit together ... until something so unexpected happens that it changes the course of their relationship-and both their lives-forever.

- Publisher
You May Also Be Interested In
About "The Masterpiece"
New York Times bestselling author Francine Rivers returns to her romance roots with this unexpected and redemptive love story, a probing tale that reminds us that mercy can shape even the most broken among us into an imperfect yet stunning masterpiece.

A successful LA artist, Roman Velasco appears to have everything he could possibly want-money, women, fame. Only Grace Moore, his reluctant, newly hired personal assistant, knows how little he truly has. The demons of Roman's past seem to echo through the halls of his empty mansion and out across his breathtaking Topanga Canyon view. But Grace doesn't know how her boss secretly wrestles with those demons: by tagging buildings as the Bird, a notorious but unidentified graffiti artist-an alter ego that could destroy his career and land him in prison.

Like Roman, Grace is wrestling with ghosts and secrets of her own. After a disastrous marriage threw her life completely off course, she vowed never to let love steal her dreams again. But as she gets to know the enigmatic man behind the reputation, it's as if the jagged pieces of both of their pasts slowly begin to fit together ... until something so unexpected happens that it changes the course of their relationship-and both their lives-forever.
- Publisher


Meet the Author
Francine Rivers
New York Times best-selling author Francine Rivers (born 1947) began her literary career at the University of Nevada, Reno, where she graduated with a Bachelor of Arts degree in English and journalism. From 1976 to 1985, she had a successful writing career in the general market, and her books were highly acclaimed by readers and reviewers. Although raised in a religious home, Francine did not truly encounter Christ until later in life, when she was already a wife, a mother of three, and an established romance novelist.

Five years after becoming a born-again Christian in 1986, Francine released Redeeming Love as her statement of faith. This retelling of the biblical story of Gomer and Hosea, set during the time of the California Gold Rush, is now considered by many to be a classic work of Christian fiction. The popularity of Redeeming Love continues unabated over a quarter of a century after its publication.

Since Redeeming Love, Francine has published numerous novels with Christian themes - all best sellers. The Last Sin Eater, earned her the CBA Gold Medal award and has since been made into a feature film - She has continued to win both industry acclaim and reader loyalty around the globe. Her Christian novels have been awarded or nominated for numerous honours, including the RITA Award, the Christy Award, the ECPA Gold Medallion, and the Holt Medallion in Honour of Outstanding Literary Talent. In 1997, after winning her third RITA Award for inspirational fiction, Francine was inducted into the Romance Writers of America's Hall of Fame. Francine's books have been translated into over thirty languages, and she enjoys best-seller status in many countries, including Germany, the Netherlands, and South Africa.

Francine and her husband, Rick, live in northern California and enjoy time spent with their three grown children and taking every opportunity to spoil their grandchildren. Francine uses her writing to draw closer to the Lord, and she desires that through her work she might worship and praise Jesus for all He has done and is doing in her life.
Customer Reviews For "The Masterpiece"
Write Your Own Review
Her best yet!
By Clare,

Jul 26 2018
Definitely her best work yet! Capturing attention in the first paragraph, Francine Rivers weaves a beautiful story of love, redemption and restoration that will keep you enthralled until the last word. Beautifully written as always
---
Another life-changing novel from Francine Rivers
By Lucinda,

Mar 24 2018
Francine Rivers is one of my all-time favourite authors, and for good reason: her books are life-changing! Her latest title, The Masterpiece, certainly doesn't disappoint. 

Covering themes of rejection, abuse, death, gang activity, foster care, poverty, and adultry, Rivers expertly takes these situations and allows the love and redemptive power of Christ to shine through. She makes the characters real, relatable, and human, as only she can. 

I would recommend all of her titles, but this is definitely in my top four favorites. If you haven't read it yet, you need to!
---
Must read
By Aimee,

Mar 22 2018
Francine Rivers is back with this fantastic new fiction novel 'The Masterpiece'. Having been a fan of Francine Rivers for years, I couldn't wait to read this new novel. It is a page turner from start to finish.
As usual, Rivers deals with some pretty confronting topics and shows that as Christians we aren't all perfect and can be lead to temptations but as long as we put our trust in the Lord and ask for forgiveness, Jesus will forgive us. This also a story about finding faith when times are hard or when you don't believe at all. I like that Rivers shows the reality of Christianity at times; that occasionally people may have doubts about their faith but be lead back to the Lord.
The book is written well and is captivating. It leaves the story mostly all tied up, but a few questions are still left to be answered which is what I like so much about Francine Rivers.
This book comes highly recommended to anyone who has liked Francine Rivers previous books or enjoys Christian Romantic Fiction. 
---
Truly Captivating
By Keona,

Mar 08 2018
I simply couldn't put it down. I love the fullness and complexity of the 2 main characters and how their stories gently unfold. I've cried, I've healed and I've encountered God in such a powerful way reading this story. Thank you so much Francine for writing such a truly captivating book!
---
Great Read!
By Kylie,

Feb 22 2018
Another great read from Francine Rivers. I recently discovered her - and love her style very much. An interesting story line and I like that not all questions are answered in the end, it leaves you thinking and pondering. Love that her epilogues feed the need for "what happens next?" but still doesn't tell you everything and leaves you thinking. A great read.
{{review.title}}
By {{review.author.name}},

{{review.reviewCreatedDate | date:'MMM dd yyyy'}}

{{reviewdescription}}
{{review.text}}
---