The Masterpiece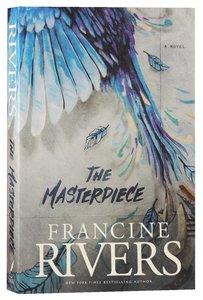 New York Times bestselling author Francine Rivers returns to her romance roots with this unexpected and redemptive love story, a probing tale that reminds us that mercy can shape even the most broken among us into an imperfect yet stunning masterpiece.

A successful LA artist, Roman Velasco appears to have everything he could possibly want-money, women, fame. Only Grace Moore, his reluctant, newly hired personal assistant, knows how little he truly has. The demons of Roman's past seem to echo through the halls of his empty mansion and out across his breathtaking Topanga Canyon view. But Grace doesn't know how her boss secretly wrestles with those demons: by tagging buildings as the Bird, a notorious but unidentified graffiti artist - an alter ego that could destroy his career and land him in prison.

Like Roman, Grace is wrestling with ghosts and secrets of her own. After a disastrous marriage threw her life completely off course, she vowed never to let love steal her dreams again. But as she gets to know the enigmatic man behind the reputation, it's as if the jagged pieces of both of their pasts slowly begin to fit together ... until something so unexpected happens that it changes the course of their relationship - and both their lives - forever.

- Publisher
You May Also Be Interested In
About "The Masterpiece"
New York Times bestselling author Francine Rivers returns to her romance roots with this unexpected and redemptive love story, a probing tale that reminds us that mercy can shape even the most broken among us into an imperfect yet stunning masterpiece.

A successful LA artist, Roman Velasco appears to have everything he could possibly want-money, women, fame. Only Grace Moore, his reluctant, newly hired personal assistant, knows how little he truly has. The demons of Roman's past seem to echo through the halls of his empty mansion and out across his breathtaking Topanga Canyon view. But Grace doesn't know how her boss secretly wrestles with those demons: by tagging buildings as the Bird, a notorious but unidentified graffiti artist - an alter ego that could destroy his career and land him in prison.

Like Roman, Grace is wrestling with ghosts and secrets of her own. After a disastrous marriage threw her life completely off course, she vowed never to let love steal her dreams again. But as she gets to know the enigmatic man behind the reputation, it's as if the jagged pieces of both of their pasts slowly begin to fit together ... until something so unexpected happens that it changes the course of their relationship - and both their lives - forever.

- Publisher
- Koorong


Meet the Author
Francine Rivers
New York Times best-selling author Francine Rivers (born 1947) began her literary career at the University of Nevada, Reno, where she graduated with a Bachelor of Arts degree in English and journalism. From 1976 to 1985, she had a successful writing career in the general market, and her books were highly acclaimed by readers and reviewers. Although raised in a religious home, Francine did not truly encounter Christ until later in life, when she was already a wife, a mother of three, and an established romance novelist.

Five years after becoming a born-again Christian in 1986, Francine released Redeeming Love as her statement of faith. This retelling of the biblical story of Gomer and Hosea, set during the time of the California Gold Rush, is now considered by many to be a classic work of Christian fiction. The popularity of Redeeming Love continues unabated over a quarter of a century after its publication.

Since Redeeming Love, Francine has published numerous novels with Christian themes - all best sellers. The Last Sin Eater, earned her the CBA Gold Medal award and has since been made into a feature film - She has continued to win both industry acclaim and reader loyalty around the globe. Her Christian novels have been awarded or nominated for numerous honours, including the RITA Award, the Christy Award, the ECPA Gold Medallion, and the Holt Medallion in Honour of Outstanding Literary Talent. In 1997, after winning her third RITA Award for inspirational fiction, Francine was inducted into the Romance Writers of America's Hall of Fame. Francine's books have been translated into over thirty languages, and she enjoys best-seller status in many countries, including Germany, the Netherlands, and South Africa.

Francine and her husband, Rick, live in northern California and enjoy time spent with their three grown children and taking every opportunity to spoil their grandchildren. Francine uses her writing to draw closer to the Lord, and she desires that through her work she might worship and praise Jesus for all He has done and is doing in her life.
Customer Reviews For "The Masterpiece"
Write Your Own Review
A bit different from her other novels . . .
By Lisa,

Dec 07 2018
I was surprised by 'The Masterpiece' as it is quite unlike the other Francine Rivers books I have read.  It is a good read and I enjoyed the story line.  I felt aware at times that this was an an older lady writing about street culture and night life.  Its a little thing but it lingers through the prose when it is clear that she is not writing from her own experience.  The power of demons is clear in one part of the story and I found this was very well done and will not be quickly forgotten.
---
A True Masterpiece
By Mariah,

Dec 02 2018
Francine Rivers is by far one of the best Christian Fiction authors i know!
She continues to impress and bring great books to her readers. Always full of Christ and his deep grace towards us. This book brings together two broken lives and shows that miracles truly can happen.
---
A great Christian novel
By Mariquita,

Nov 01 2018
This book was beautifully written and was hard to put down. It tells the story of two characters, who have had a difficult childhood and how both have dealt with their past in different ways. The author then shows us the consequences of the choices that they made in life. I highly recommend this book! 
---
Couldn't put it down!
By Amy,

Sep 27 2018
I thoroughly enjoyed this book. I couldn't put it down. Once again, a great read from Francine Rivers. I highly recommend this book. 
---
The Title Says It All!!
By Olivia ,

Sep 04 2018
This is the 14th book of Francine Rivers I have read and they are all unique and are all different this one is the only one that blew me away! The layout is different and takes some getting used to. It covers so many topics such as healing, forgiveness, love, abandonment, negligence, sorrow, death, hope, encouragement, brokenness, exceptance, after life, prostitution and so much more. This book is about 2 people that need a second chance to make their life right it is sad at times and it also gives you knowledge of broken families when people don't have parents how it can impact their life and who influences them if they don't have a mum or dad. 
This makes you think and I highly recommend this book to non believers with the hope that you will convert to believe in God and salvation because without God in your life you are empty and in darkness, God is light and he gives us love, hope and everything we need and Rivers delivers this in her book. I loved reading about Roman and Grace and how their life changed. If you like or love Rivers books you will love this one because once again Rivers delivers a excellent book! I could go on and on but you just need to read this book to find out what I am talking about. 
{{review.title}}
By {{review.author.name}},

{{review.reviewCreatedDate | date:'MMM dd yyyy'}}

{{reviewdescription}}
{{review.text}}
---