The Meaning of Jesus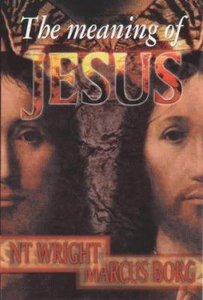 Two great Bible scholars, one a liberal, the other a traditionalist, write about Jesus and engage in debate. In alternating sections, Marcus Borg and Tom Wright present their significantly different versions of who Jesus was, what he taught, and what he did. They express sharp, cogently argued disagreement over many crucial issues, and provide a marvellous model for how the Historical Jesus debate should be conducted.

- Publisher
You May Also Be Interested In
About "The Meaning of Jesus"
Two great Bible scholars, one a liberal, the other a traditionalist, write about Jesus and engage in debate. In alternating sections, Marcus Borg and Tom Wright present their significantly different versions of who Jesus was, what he taught, and what he did. They express sharp, cogently argued disagreement over many crucial issues, and provide a marvellous model for how the Historical Jesus debate should be conducted.
- Publisher


Meet the Authors
N T Wright
N.T.(Tom) Wright (D.Phil., University of Oxford) is Reseach Professor in Christian Origins at St Mary's College in the Divinity School of St Andrew's University, Scotalnd. Formerly Bishop of Durham, he was recently named by Christianity Today as one of the top five theologians in the world. Once Canon Theologian of Westminster Abbey and dean of Lichfield Cathedral, he taught New Testament studies for twenty years at Cambridge, McGill and Oxford Universities.
Wright's full-scale works The New Testament and the People of God; Jesus and the Victory of God; and The Resurrection of the Son of God are part of a projected six-volume series entitled Christian Origins and the Question of God.
Among his many other published works are The Original Jesus; What Saint Paul Really Said and The Climax of the Covenant. He is also co-author with Marcus Borg of The Meaning of Jesus: Two Visions
His commentaries include Colossians and Philemon (The Tyndale New Testament Commentary series), the 12 volume For Everyone series, Romans (New Interpreter's Bible Commentary); Galatians (The Horizons Theological Commentary) and The Letter to the Philippians (International Critical Commentary)
Most recently he has released Surprised by Hope; Small Faith--Great God; Virtue Reborn and Justification: God's Plan and Paul's Vision.
Koorong -Editorial Review.
Marcus J Borg
Marcus J. Borg (D.Phil, University of Oxford) is Hundere Distinguished Professor of Religion and Culture, Emeritus, at Oregon State University, Canon Theologian at Trinity Episcopal Cathedral in Portland, Oregon, and author of the bestselling Meeting Jesus Again for the First Time, The Heart of Christianity, Reading the Bible Again for the First Time, The God We Never Knew, and Jesus.