The Meaning of Marriage: Facing the Complexities of Commitment With the Wisdom of God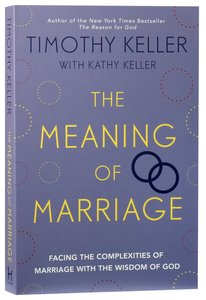 Based on the acclaimed sermon series by New York Times bestselling author Timothy Keller, this book shows everyone - Christians, sceptics, singles, long-time married couples, and those about to be engaged - the vision of what marriage should be according to the Bible.

Modern culture would make you believe that everyone has a soul-mate; that romance is the most important part of a successful marriage; that your spouse is there to help you realize your potential; that marriage does not mean forever, but merely for now; that starting over after a divorce is the best solution to seemingly intractable marriage issues. All those modern-day assumptions are, in a word, wrong.

Using the Bible as his guide, coupled with insightful commentary from his wife of thirty-six years, Kathy, Timothy Keller shows that God created marriage to bring us closer to him and to bring us more joy in our lives. It is a glorious relationship that is also the most misunderstood and mysterious. With a clear-eyed understanding of the Bible, and meaningful instruction on how to have a successful marriage, The Meaning of Marriage is essential reading for anyone who wants to know God and love more deeply in this life.

- Publisher
You May Also Be Interested In
About "The Meaning of Marriage: Facing the Complexities of Commitment With the Wisdom of God"
Based on the acclaimed sermon series by New York Times bestselling author Timothy Keller, this book shows everyone - Christians, sceptics, singles, long-time married couples, and those about to be engaged - the vision of what marriage should be according to the Bible.

Modern culture would make you believe that everyone has a soul-mate; that romance is the most important part of a successful marriage; that your spouse is there to help you realize your potential; that marriage does not mean forever, but merely for now; that starting over after a divorce is the best solution to seemingly intractable marriage issues. All those modern-day assumptions are, in a word, wrong.

Using the Bible as his guide, coupled with insightful commentary from his wife of thirty-six years, Kathy, Timothy Keller shows that God created marriage to bring us closer to him and to bring us more joy in our lives. It is a glorious relationship that is also the most misunderstood and mysterious. With a clear-eyed understanding of the Bible, and meaningful instruction on how to have a successful marriage, The Meaning of Marriage is essential reading for anyone who wants to know God and love more deeply in this life.

- Publisher
- Koorong

In previous books respected New York pastor and bestselling author Timothy Keller has looked at such diverse and topical subjects as the existence of God, our need to do justice, the meaning of Jesus' life, and the human temptation to make idols - all through the twin lenses of a biblical framework and an engagement with contemporary culture. In this new book, co-authored with his wife, Kathy, he turns his attention to that most complex of matters: our need for love, and its expression in marriage. Beginning with the biblical narrative, and its pictures of marriage that span the original ideal to the broken to the redemptive, he looks at themes of friendship and commitment; the completion of men and women in each other; singleness, sex and divorce; and ministry and discipleship within the context of marriage. This is a profound and engaging work that will challenge and inspire people in all stages of life - single, newlywed and married.
- Publisher


Meet the Author
Timothy Keller (Ed)
Timothy Keller is the founding pastor of Redeemer Presbyterian Church in Manhattan, which he started in 1989 with his wife, Kathy. For over twenty-five years he has led a diverse congregation of young professionals that has grown to a weekly attendance of over 5,000.

He is also Chairman of Redeemer City to City, which starts new churches in New York and other global cities, and publishes books and resources for faith in an urban culture. In ten years they helped to launch over 250 churches in 48 cities. More recently, Dr. Keller's books - including the New York Times bestselling The Reason for God, The Prodigal God, and Prayer: Experiencing Awe and Intimacy with God - have sold over 1 million copies and been translated into 15 languages.

Tim was born in 1950, raised in Pennsylvania, and educated at Bucknell University, Gordon-Conwell Theological Seminary, and Westminster Theological Seminary. He previously served as the pastor of West Hopewell Presbyterian Church in Hopewell, Virginia, Associate Professor of Practical Theology at Westminster Theological Seminary, and Director of Mercy Ministries for the Presbyterian Church in America.

Tim and his wife Kathy have three adult sons.
Customer Reviews For "The Meaning of Marriage: Facing the Complexities of Commitment With the Wisdom of God"
Write Your Own Review
Go to for Couples
By Kate,

Jan 19 2018
If there's one book you read on marriage, there's no better place to start. Keller not only deals with the practicality of marriage, but also God's big picture design for marriage.
---
Must read on Marriage!
By Mikey,

Mar 22 2017
Super helpful book on how we view marriage in today's world and how God views marriage. I love how he dissects our culture and helps us to understand our need for love and how marriage answers that need. He covers a range of topics that we should consider going into marriage or as singles so I highly recommend this book for everyone. There's good reason why it's a bestseller! 
---
Insightful and practical
By John,

Feb 28 2017
a helpful tool for both before marriage and during. 
---
Great marriage prep
By Roz,

Feb 04 2017
A great book in preparation for marriage or even if you are single. Lots of biblical knowledge based information and just makes sense!
---
great feedback from friends
By Alyssa,

Feb 03 2017
been getting this for many friends and everyone has given very great feedback! will keep getting it for friends :)
{{review.title}}
By {{review.author.name}},

{{review.reviewCreatedDate | date:'MMM dd yyyy'}}

{{reviewdescription}}
{{review.text}}
---