The Measure of a Young Man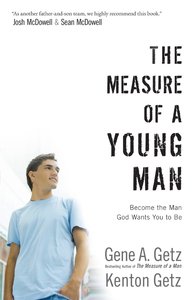 The bestselling book The Measure of a Man continues to impact millions of men around the world, but it has long been author Gene Getz's dream to bring that message to young men who are still in the process of finding their identities. When his son, Kenton, was in junior high, Gene wrote a series of letters to him based on 1 Timothy 4:12: "Don't let anyone look down on you because you are young, but set an example for the believers in speech, in life, in love, in faith and in purity." Out of that verse, Gene drew seven principles that he hoped would inspire Kenton to become a young man of faith, strength, and godly purpose.

Gene and his son, who is now a father of five, have teamed up to share these principles with young men and their families. The Measure of a Young Man challenges readers to find their identity in Christ and to set a high standard for themselves in words, in daily living, in loving others, in growing faith, and in sexuality. It also encourages young men to reach out to a network of fathers, grandfathers, youth pastors, and Christian peers who will support their growth to faithful, godly maturity.

- Publisher
You May Also Be Interested In
About "The Measure of a Young Man"
The bestselling book The Measure of a Man continues to impact millions of men around the world, but it has long been author Gene Getz's dream to bring that message to young men who are still in the process of finding their identities. When his son, Kenton, was in junior high, Gene wrote a series of letters to him based on 1 Timothy 4:12: "Don't let anyone look down on you because you are young, but set an example for the believers in speech, in life, in love, in faith and in purity." Out of that verse, Gene drew seven principles that he hoped would inspire Kenton to become a young man of faith, strength, and godly purpose.

Gene and his son, who is now a father of five, have teamed up to share these principles with young men and their families. The Measure of a Young Man challenges readers to find their identity in Christ and to set a high standard for themselves in words, in daily living, in loving others, in growing faith, and in sexuality. It also encourages young men to reach out to a network of fathers, grandfathers, youth pastors, and Christian peers who will support their growth to faithful, godly maturity.
- Publisher


Meet the Authors
Gene Getz
Dr. Gene Getz, a graduate of Moody Bible Institute, has been involved in a variety of experiences, including Christian education, music ministries, and college and seminary teaching. He has authored more than fifty books and has directly or indirectly helped launch seventeen churches in the Dallas metroplex. Currently, Gene serves as senior pastor of Fellowship Bible Church North in Plano, Texas; director of the Center for Church Renewal; host of Renewal Radio; and adjunct professor at Dallas Theological Seminary.
Kenton Getz
Kenton Getz es graduado de la Universidad de Baylor y ha participado activamente en el ministerio desde su juventud. Kenton trabaja en una empresa de tecnologia en Dallas, Texas, donde vive con su esposa, Carla, y sus cinco hijos. <P> Kenton Getz is a graduate of Baylor University and has been active in ministry from his youth. Kenton serves as a controller for a technology firm in Dallas, Texas, where he lives with his wife, Carla, and five children.