The Memory Jar (#01 in Seven Brides For Seven Bachelors Series)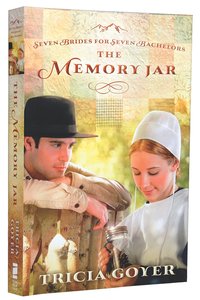 Every year, 30--40 young Amish men descend on the cozy little town of West Kootenai, Montana, arriving in the spring to live there for six months and receive 'resident' status for the hunting season in the fall. They arrive as bachelors, but go home with brides! Sarah Shelter has lived in West Kootenai for the last ten years and wonders if she will ever fall in love. Since the tragic death of her best friend, she carries her memories in a jar along with the small items connected to them. For just as long, she's also been carrying around her emotions instead of allowing them to penetrate deep into her heart. Now she's met a kind and gentle man who may be able to break down the wall. But can Sarah risk her heart to finally achieve her dreams?

- Publisher
You May Also Be Interested In
About "The Memory Jar (#01 in Seven Brides For Seven Bachelors Series)"
Every year, 30--40 young Amish men descend on the cozy little town of West Kootenai, Montana, arriving in the spring to live there for six months and receive 'resident' status for the hunting season in the fall. They arrive as bachelors, but go home with brides! Sarah Shelter has lived in West Kootenai for the last ten years and wonders if she will ever fall in love. Since the tragic death of her best friend, she carries her memories in a jar along with the small items connected to them. For just as long, she's also been carrying around her emotions instead of allowing them to penetrate deep into her heart. Now she's met a kind and gentle man who may be able to break down the wall. But can Sarah risk her heart to finally achieve her dreams?
- Publisher


Meet the Author
Tricia Goyer
Tricia Goyer has written hundreds of articles, Bible Study notes, and both fiction and non-fiction books, including From Dust and Ashes, Night Song, Arms of Deliverance, and Generation Next Parenting.
She was named Mount Hermon Christian Writers' Conference "Writer of the Year" in 2003. In 2005, her book Life Interrupted was a finalist for the Gold Medallion and her novel Night Song won ACFW's Book of the Year for Long Historical Romance.
In addition to writing, Tricia enjoys sharing Jesus' love through volunteering as a mentor for teenage mothers in her community. She also joins the rest of her family, leading children's church every week, and travels throughout the United States as a speaker, mainly giving presentations to women's groups.
Media
Other Titles In The "Seven Brides For Seven Bachelors Series" Series View All