The Mended Heart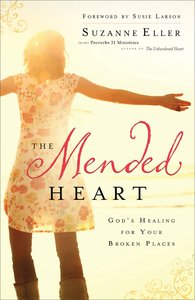 :Brokenness happens. Tragedy, sin, and the painful choices of others all have the ability to disrupt an otherwise contented life. And as a result of our heartache, we often attempt to fix our own brokenness--with disastrous results.

If you've tried to heal, but keep ending up in the same place--whether the battle is in your heart or out in the open where everyone can see--The Mended Heart is for you. In this book, author Suzanne Eller tells it like it is: people throw quick fixes at you or tell you to pull yourself up by your bootstraps (whatever that means). More important, though, she shares the powerful truth of Jesus's mission as outlined in Luke 4:18-21: He came to set free all those who are oppressed and in need of mending.

You don't have to fix yourself--Jesus loves you right where you are. In fact, He has already completed the work that needs to be done. The Mended Heart will encourage you to trust him, to give and receive grace, and to move ahead even stronger than before--even if others don't move with you.

- Publisher
You May Also Be Interested In
About "The Mended Heart"
:Brokenness happens. Tragedy, sin, and the painful choices of others all have the ability to disrupt an otherwise contented life. And as a result of our heartache, we often attempt to fix our own brokenness--with disastrous results.

If you've tried to heal, but keep ending up in the same place--whether the battle is in your heart or out in the open where everyone can see--The Mended Heart is for you. In this book, author Suzanne Eller tells it like it is: people throw quick fixes at you or tell you to pull yourself up by your bootstraps (whatever that means). More important, though, she shares the powerful truth of Jesus's mission as outlined in Luke 4:18-21: He came to set free all those who are oppressed and in need of mending.

You don't have to fix yourself--Jesus loves you right where you are. In fact, He has already completed the work that needs to be done. The Mended Heart will encourage you to trust him, to give and receive grace, and to move ahead even stronger than before--even if others don't move with you.
- Publisher


Meet the Author
Suzanne Eller
T. Suzanne Eller is a full-time author, freelancer, and ministry speaker. She has written articles for magazines such as Christian Parenting Today, Today's Christian Woman, Guidepost, and many others. In addition, Suzanne is a youth culture columnist for Enrichment Journal and travels around the nation ministering to teens, parents, and youth workers.