The Messenger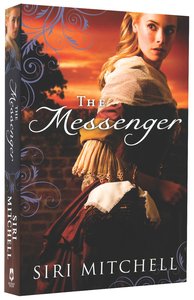 Hannah Sunderland felt content in her embrace of the Quaker faith... until her twin brother joined the Colonial cause and ended up in jail. She longs to bring some measure of comfort to him in the squalid prison, but her faith forbids it. The Friends believe that they are not to take sides, not to take up arms. She is not allowed to visit him, even if she were able to secure a pass.

Jeremiah Jones, a Colonial spy, needs access to the jail to help rescue men important to the cause. Upon meeting Hannah, a plan begins to develop. Who would suspect a pious Quaker visiting a loved one?

But Jeremiah is unprepared for Hannah, for her determination to do right, to not lie. How can one be a spy and not lie? Hannah, in turn, is surprised by Jeremiah... for the way he forces her to confront her own beliefs, for the sensitivity and concern that he shows her despite the wounds he still carries.

- Publisher
You May Also Be Interested In
About "The Messenger"
Hannah Sunderland felt content in her embrace of the Quaker faith... until her twin brother joined the Colonial cause and ended up in jail. She longs to bring some measure of comfort to him in the squalid prison, but her faith forbids it. The Friends believe that they are not to take sides, not to take up arms. She is not allowed to visit him, even if she were able to secure a pass.

Jeremiah Jones, a Colonial spy, needs access to the jail to help rescue men important to the cause. Upon meeting Hannah, a plan begins to develop. Who would suspect a pious Quaker visiting a loved one?

But Jeremiah is unprepared for Hannah, for her determination to do right, to not lie. How can one be a spy and not lie? Hannah, in turn, is surprised by Jeremiah... for the way he forces her to confront her own beliefs, for the sensitivity and concern that he shows her despite the wounds he still carries.

- Publisher
- Koorong

As lives hang in the balance, a young woman must choose between helping the man she's come to love and holding onto her pacifist faith.
- Publisher

A Riveting Tale of Faith and Romance by an Acclaimed Novelist

Hannah Sunderland felt content in her embrace of the Quaker faith

...until her twin brother ran off and joined the army and ended up captured and in jail. Suddenly Hannah's world turns on end. She longs to bring her brother some measure of comfort in the squalid, frigid prison where he remains. But the Quakers believe they are not to take sides, not to take up arms. Can she sit by and do nothing while he suffers?

Jeremiah Jones has an enormous task before him. Responsibility for a spy ring is now his, and he desperately needs access to the men in prison, whom they are seeking to free. A possible solution is to garner a pass for Hannah. But while she is fine to the eye, she holds only disdain for him--and agreeing would mean disobeying those she loves and abandoning a bedrock of her faith.

With skill and sensitivity, Mitchell tells a story of two unlikely heroes seeking God's voice, finding the courage to act, and discovering the powerful embrace of love.
- Publisher


Meet the Author
Siri Mitchell
-->Siri Mitchell has written five novels two of which (Chateau of Echoes and The Cubicle Next Door) were named Christy Finalists. A graduate from the University of Washington with a business degree she has worked in many levels of government. She enjoys traveling and has lived on three continents.
Customer Reviews For "The Messenger"
Write Your Own Review
Simply Amazing!
By Taz,

Jun 02 2012
Siri Mitchell has outdone herself with this amazing story of faith, loyalty, and love. If you're looking for a read outside the status quo, this is it. The twists and turns are unexpected, and the characters unfold beautifully. Every book worth reading has a message and the message in this one is profoundly necessary. The two key characters are not what you'd expect and become as enjoyable as they are true to life.
Stop reading this and just get it. If you want a novel beyond the confines of your usual read, pick this one. It's hard to say too much without giivng it away. Healing for wounded souls is found in the unpredictable, and the courage to act is best practised in being bold.
There's an old saying that bad things happen when good men do nothing. Really, if good men do nothing, then they are not good men at all...
{{review.title}}
By {{review.author.name}},

{{review.reviewCreatedDate | date:'MMM dd yyyy'}}

{{reviewdescription}}
{{review.text}}
---