The Messenger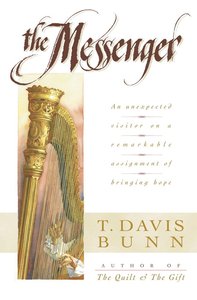 A Delightful Parable of Unexpected EncountersIn the Tradition of The Quilt & amp; The GiftAriel had dreamed about this chance, but she never thought it would come so soon. Only halfway through her training came the surprise assignment: she was to be sent as an undercover messenger with a mission of hope to the city of Philadelphia. Expecting the City of Brother Love, what she discovers is a harsh urban landscape where crime, poverty, and the extent of human indifference is overwhelming. When a street thief pilfers her secret pass card, Ariel loses the access she needs to get back home. To make matters worse, she fears that the thief might use her card to gain unauthorized entry. However, the tables are turned when he finds that his brief encounter with Ariel throws a disturbing light into the depths of his heart. When the two finally meet again, both are in for a big surprise.

- Publisher
You May Also Be Interested In
About "The Messenger"
A Delightful Parable of Unexpected EncountersIn the Tradition of The Quilt & amp; The GiftAriel had dreamed about this chance, but she never thought it would come so soon. Only halfway through her training came the surprise assignment: she was to be sent as an undercover messenger with a mission of hope to the city of Philadelphia. Expecting the City of Brother Love, what she discovers is a harsh urban landscape where crime, poverty, and the extent of human indifference is overwhelming. When a street thief pilfers her secret pass card, Ariel loses the access she needs to get back home. To make matters worse, she fears that the thief might use her card to gain unauthorized entry. However, the tables are turned when he finds that his brief encounter with Ariel throws a disturbing light into the depths of his heart. When the two finally meet again, both are in for a big surprise.
- Publisher


Meet the Author
T Davis Bunn
Davis Bunn is an internationally-acclaimed award-winning author who has sold more than four million books in fifteen languages. He has been honoured with three Christy Awards for excellence in historical and suspense fiction. He has written several bestsellers including Winner Take All, Drummer in the Dark, The Meeting Place, The Book of Hours, Imposter, and The Quilt. He's also the co-author of the Song of Acadia series with Janette Oke. As a result of his book, To the Ends of the Earth, Bunn was named the Novelist in Residence at Regent's Park College, Oxford University. - Publisher.