The Mind of the Spirit: Paul's Approach to Transformed Thinking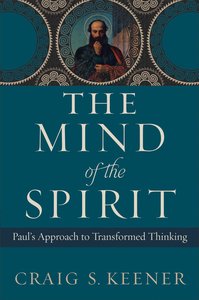 Leading Scholar Explores Paul's Teaching on the Mind

This major work by a leading New Testament scholar explores an important but neglected area of Pauline theology, Paul's teaching about the mind. In discussing matters such as the corrupted mind, the mind of Christ, and the renewal of the mind, Paul adapts language from popular intellectual thought in his day, but he does so in a way distinctively focused on Christ and Christ's role in the believer's transformation. Keener enables readers to understand this thought world so they can interpret Paul's language for contemporary Christian life. The book helps overcome a false separation between following the Spirit and using human judgment and provides a new foundation for relating biblical studies and Christian counseling.

- Publisher
You May Also Be Interested In
About "The Mind of the Spirit: Paul's Approach to Transformed Thinking"
Leading Scholar Explores Paul's Teaching on the Mind

This major work by a leading New Testament scholar explores an important but neglected area of Pauline theology, Paul's teaching about the mind. In discussing matters such as the corrupted mind, the mind of Christ, and the renewal of the mind, Paul adapts language from popular intellectual thought in his day, but he does so in a way distinctively focused on Christ and Christ's role in the believer's transformation. Keener enables readers to understand this thought world so they can interpret Paul's language for contemporary Christian life. The book helps overcome a false separation between following the Spirit and using human judgment and provides a new foundation for relating biblical studies and Christian counseling.
- Publisher


Meet the Author
Craig S Keener
Craig S. Keener (Ph.D., Duke University) is Professor of New Testament at Palmer Theological Seminary, Eastern University. He is also the author of many books, including commentaries on Matthew; John; Revelation (New International Version Application Commentary); The Spirit in the Gospels and Acts: Divine Purity and Power; Paul, Women, and Wives: Marriage and Womens Ministry in the Letters of Paul and And Marries Another: Divorce and Remarriage in the Teaching of the New Testament.
Koorong -Editorial Review.
Table Of Contents
leading Scholar Explores Paul's Teaching On The Mind

this Major Work By A Leading New Testament Scholar Explores An Important But Neglected Area Of Pauline Theology, Paul's Teaching About The Mind. In Discussing Matters Such As The Corrupted Mind, The Mind Of Christ, And The Renewal Of The Mind, Paul Adapts Language From Popular Intellectual Thought In His Day, But He Does So In A Way Distinctively Focused On Christ And Christ's Role In The Believer's Transformation. Keener Enables Readers To Understand This Thought World So They Can Interpret Paul's Language For Contemporary Christian Life. The Book Helps Overcome A False Separation Between Following The Spirit And Using Human Judgment And Provides A New Foundation For Relating Biblical Studies And Christian Counseling.